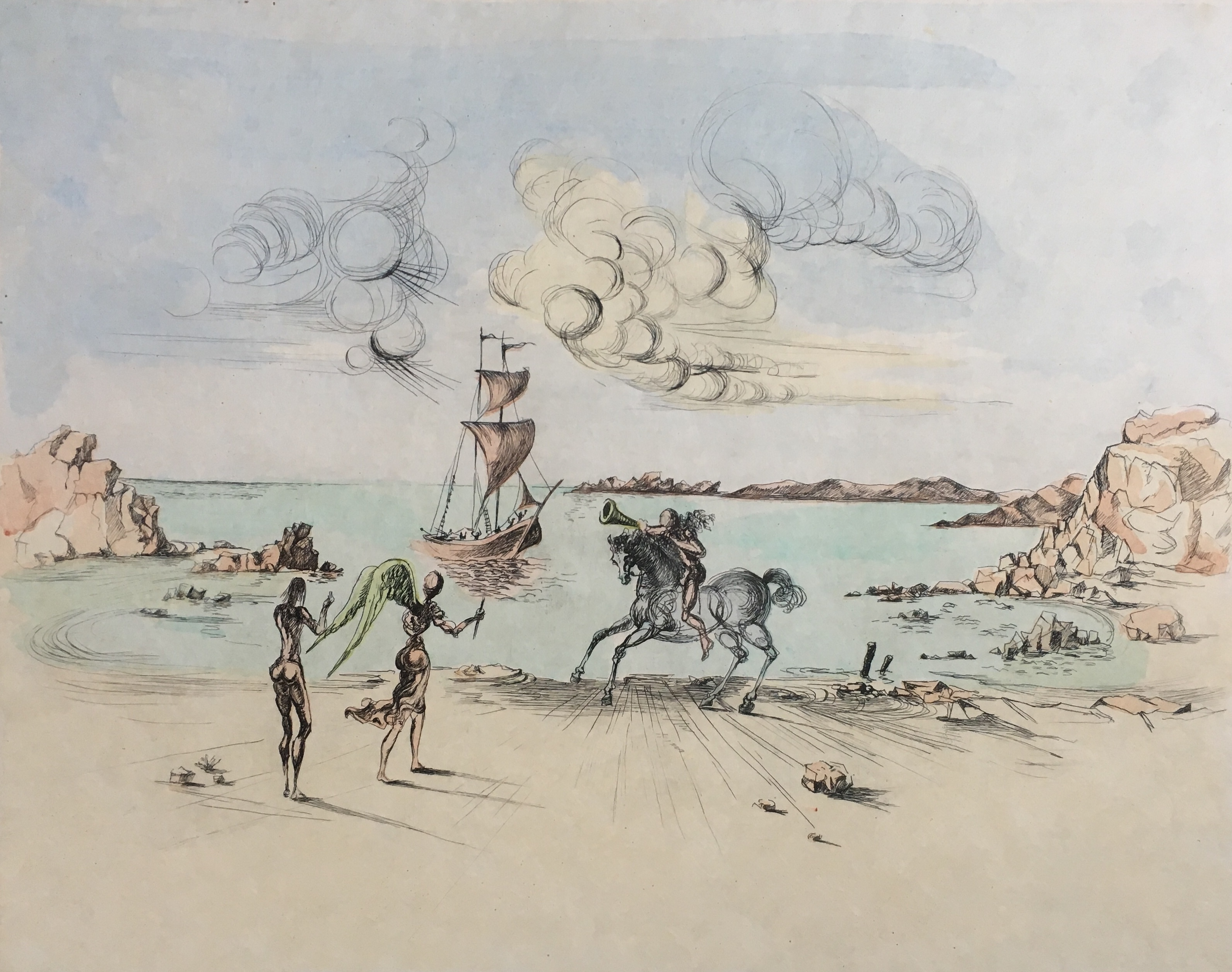 sold to a private collection (Hungary)
Description
The works of the iconic master of surrealism, are rare and popular pieces at the international auctions. This beautiful uniquely colored etching, leads us to a surreal dream world. We are seeing a mediterranean cove, the sky is clouded with cumulus clouds. On the water of the sea appears a gorgeous ship with expanded sails, which - thanks to the favorable wind conditions - is about to reach the shore shortly. Further we are seeing strange beings, at the center of them and the artwork there is a knight. He is sitting on a charming steed bench, ready to the fight, blows into his trumpet. The participant of this fight is a figure with angel wings, who arrives to the battlefield with his myrmidon - in all this artwork is a classical representation of Dalís world.
The artwork is a strictly limited and numbered edition.

Details
Artist
Salvador Dalí (1904 - 1989)
Title
Knight with trumpet
Technique
uniquely colored etching on paper
Provenance
Italian private collection
Packaging and free Shipping

With 25 years of experience in shipping Art worldwide, we provide safe packaging and shipping to our customers. Shipping and packaging are free of charge only if the list price shown on our website is accepted without discount or lower offers.

Shipping of etchings, lithographs and prints comes usually in tubes without the frame to be safe

For Shipping of paintings and sculptures we provide individually created wood boxes
The fine photography is packaged in safety boxes

All our packages we ship are insured (all risk)