Hiroshige
Tōkaidō's Fiftythree Stations - Station 22.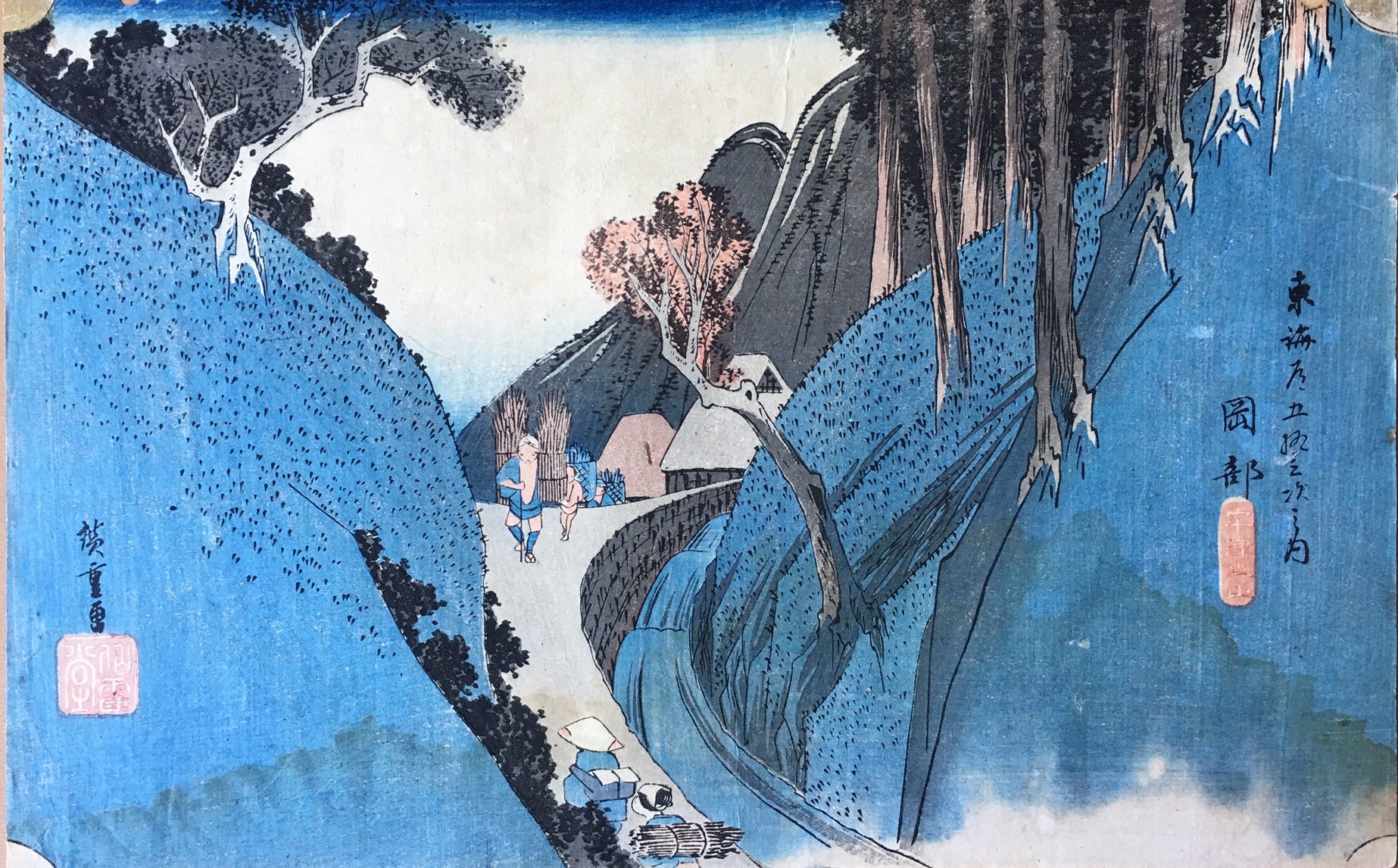 Description
This is the 22nd station for the series called "Tōkaidō's 53 stations", Okabe, Utsunoyama (Utsu mountain).
On the artwork's right side, with cursive letters signed the title of the station and the name of the station, more in a long oval field the name of the mountain. On the left side we do see the signature of the artist: Hiroshige ga, under it in a square box the stamp of the publisher: Senkakudó. He appears as only publisher on this station, normally this publisher is visible on 10 sites with the main publisher of all the stations: the so called "Hoeidó versions" – they have been published by Hoeido publishing around 1883.
This is the most famous and the first serie of Hiroshige, named the Big Tōkaidō serie.
(Éva Cseh – Hungarian Museum of Applied Arts)

Details
Artist
Hiroshige (1797 - 1858)
Title
Tōkaidō's Fiftythree Stations - Station 22.
Technique
uniquely colored woodcut on japan paper
Condition
Good condition, only a few watermarks
Provenance
From a Hungarian Private collection
Packaging and free Shipping

With 25 years of experience in shipping Art worldwide, we provide safe packaging and shipping to our customers. Shipping and packaging are free of charge only if the list price shown on our website is accepted without discount or lower offers.

Shipping of etchings, lithographs and prints comes usually in tubes without the frame to be safe

For Shipping of paintings and sculptures we provide individually created wood boxes
The fine photography is packaged in safety boxes

All our packages we ship are insured (all risk)