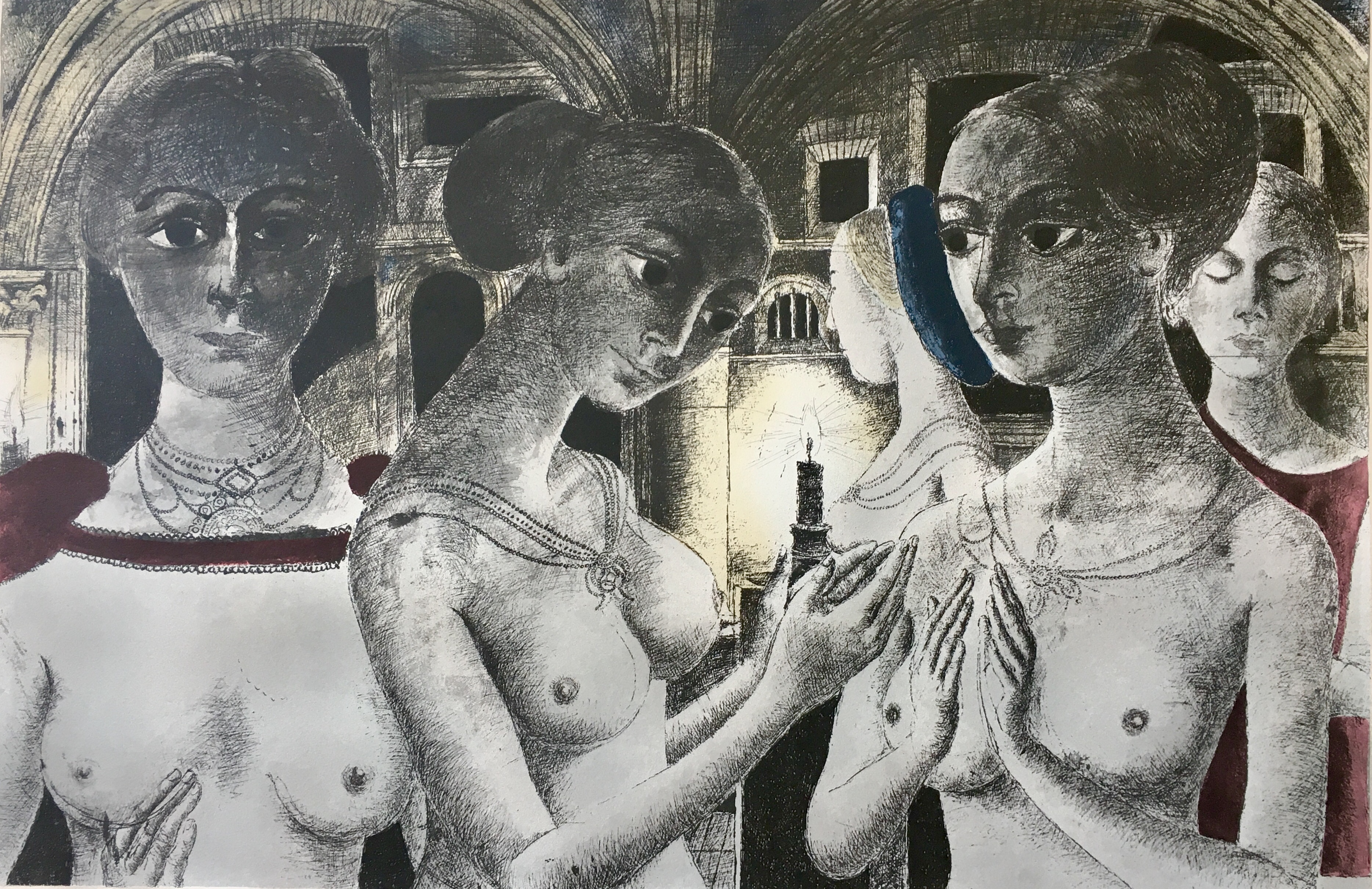 Private collection Hungary
Description
We see the figures of three graces (kharis) in Greco-Roman mythology under the arches of a colonnade. The female figure on the left is in profile, looking out at the viewer. At the center is a grace holding a candle, which is intimately viewed by their third companion, the kharis holding his right hand in prayer. In the back of the picture, on the right side, we can discover two more female figures. Their role is secondary, lowering their eyes, not closely related to the three female figures in the foreground. The title also refers to this: Trois femmes (Three Women).
The goddesses of charm, pleasure and beauty that embody the harmony of nature are surreal, as space itself is dreamlike. At Paul Delvaux, real architectural elements often appear, edited with engineering precision, but the light-shadow without a transition makes the space unrealistic. He gave the title La voute (Arch) to a similarly themed picture. This mythological theme, in Delvaux lithographs of graces deprived of their clothing since the late Hellenistic age, is a puppet-like, half-figure, unlike the classical depiction. The stiff gaze of female nudes larger than natural with black, perforated eyes is inexhaustible. The Three Graces well reflects the influence of the metaphysical art of René Magritte, a Belgian and Italian surrealist painter Giorgio de Chirico. The motifs of the image return several times during his creative career, the artist was strongly preoccupied with the unrecognizable, mysterious femininity, the relationship between the women.
Delvaux created in a post-impressionist, expressionist, surreal style. A work of the creative period of his work Three Graces (circa 1970). It depicts the female body with spooky fidelity to life, but placing the figures next to each other in this way is physically impossible, so Delvaux's work can rightly be called surreal, fantastic. His erotic figures reveal a vision of an imagined world to the viewer.
Details
Artist
Paul Delvaux (1897 - 1994)
Technique
litography on paper
Year of creation
Packaging and free Shipping

With 25 years of experience in shipping Art worldwide, we provide safe packaging and shipping to our customers. Shipping and packaging are free of charge only if the list price shown on our website is accepted without discount or lower offers.

Shipping of etchings, lithographs and prints comes usually in tubes without the frame to be safe

For Shipping of paintings and sculptures we provide individually created wood boxes
The fine photography is packaged in safety boxes

All our packages we ship are insured (all risk)