ARTWORKS FOR SALE
Current auction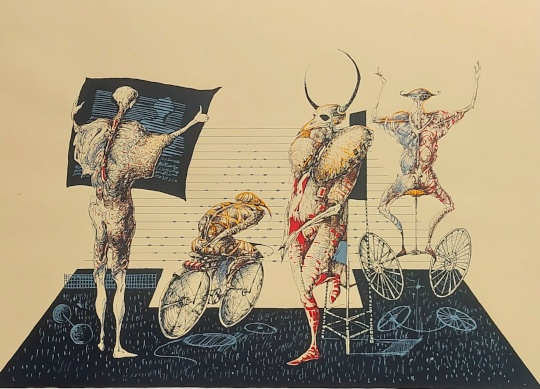 Spectaculars
Biography
Gábor Dienes was born in 1948 in Debrecen (city in the northern 'Alföld'). Between 1962 and 1966 he studied at the Fine and Applied Arts Secondary School in Budapest, than he attended at the Hungarian Academy of Fine Arts, where Aurél Bernáth and Szilárd Iván were his teachers. From 1970 he is member of the Art Fund. Between 1974 and 1997 he was a teacher of the Hungarian Academy of the Fine Arts. He belonged to the founders of the Csongrádi artist colony, which was established in 1975.
In his literary approach art, which moving the painting and graphics sensitive border area, almost every genre can be found from the lyricism to the dramatic. His expressive way brings together this diversity. His works are mostly neutral backgrounds, in these theatrical or vacuum situations intensify the function of the figures.
Gabor Dienes has received many honors, for example he got the audience award of the Festival de la Peinture, Cagnes-sur-Mer in 1976, and the Munkácsy award in 1980, and in 1989 he got the merited artist honor as well.

| Year | Biography |
| --- | --- |
| | |
| 1948 | was born in Debrecen |
| 1966-1973 | Hungarian Academy of Fine Arts |
| 1974-1997 | he was the teacher of the Hungarian Academy of Fine Arts |
| 1970-tól | he was the member of the Art Fund |
| 1970-1983 | Studio of Young Artists Association |
| 1975 | One founders of the Art Colony of Csongrád |
| | |
| | His techer: Aurél Bernáth, Szilárd Iván |
| | |
| | Awards |
| | |
| 1975-1978 | Derkovits-scholarship |
| 1976 | Festival de la Peinture, Cagnes-sur-Mer audience Award |
| 1980 | Munkácsy-award |
| 1986 | Szeged Summer Exhibition awards |
| 1989 | merited artist |
| | |
| | Single exhibitions |
| | |
| 2009 | Vision and passion- with Gábor Dienes and Gábor Nagy- exhibition, REÖK |
| 2005 | Körmend Gallery, Budapest |
| 2001 | Körmend Gallery, Sopron |
| 1999 | Szombathely Summer Exhibition, Szombathely |
| | Zalaegerszeg (with Kő Pál) |
| | Parlor Gallery |
| 1997 | Tallinn, Hungarian Institute, Helsinki |
| 1996 | Zichy Gallery, Leiden |
| | Borsos Galerie, Stuttgart |
| 1995 | MHB IMMO Art Gallery |
| 1990 | Tambaran Gallery, Surrey Hotel, New York |
| 1988 | Vigadó Gallery, Budapest |
| | Mátészalka City Center, Mátészalka |
| 1987 | Galerie Boisserée, Köln |
| | Kunstbetrieb, Dachau |
| 1984 | Mensch Galerie, Hamburg |
| 1983 | Sándor Petőfi Cultural Center, Esztergom |
| 1981 | Kara Galerie, Genf |
| 1979 | Csók Gallery, Budapest |
| 1977 | Mensch Galerie, Hamburg |
| 1974 | Józsefvárosi Gallery, Budapest |
| 1973 | Castle Museum, Ráckeve |
| | |
| | Selected group exhibitions |
| | |
| 2006 | Kassa, Vychodoslovendska Gallery |
| | Pilsen, Zapadoceska Gallery |
| 2001 | Körmendi-Csák Collective exhibitions, Tallin |
| 1999 | Hungarian National Gallery, Bupapest |
| | Csíki Székely Museum |
| 1997 | OMPI, Genf |
| | Szolnok Gallery, Szolnok |
| | WIC Rotunda, Vienna |
| | Hungarian National Gallery, Bupapest |
| 1988 | National Galerie, Berlin |
| | Vienna |
| 1987 | Eduard Nakhamkin Fine Arts, New York |
| 1987 | Galerie der Künstler, Munich |
| | Hungarian Cultural Days, Dortmunk |
| | Art '87, Basel |
| | Galerie Alte Fredenbecker, Fredenbeck |
| 1986 | Szeged Summer Exhibition, Szeged |
| | General's House, Eger |
| | Salgotarján Unique Arts Exhibition, Salgotarján |
| 1985 | Kunstverein, Dachau |
| | SIGAM '85, Montreal |
| | 40 years to create, Art Gallery, Budapest |
| 1984 | Art Gallery, Budapest |
| | Risse Galerie, Hochstadt-Wessling |
| | Szeged Summer Exhibition, Szeged |
| | Sándor Nográdi Museum, Salgotarján |
| | House of Culture, Csongrád |
| 1983 | Studio '83, Ernst Museum, Budapest |
| | Hungarian Graphics-First World Trade, New Orleans |
| | Óbuda Gallery, Budapest |
| | Kunstverein, Rathaus Gauting |
| | Hungarian Days, Moskow |
| | Hungarian National Gallery, Bupapest |
| 1982 | Studio '82, Art Gallery Budapest |
| | VIII. National Watercolor Biennial, Eger |
| | Philips Ontspannings Centru, Eindhoven |
| | Hungart Expo, Budapest |
| | Hungarian Days, Hamburg |
| | Vienna |
| 1981 | Art '81, Basel |
| | Studió '81, Szeged |
| 1980 | Studió '80, Art Gallery, Budapest |
| | XXXIX. Biennial of Venice, Velence |
| 1978 | Grand Palais, Paris |
| | Studió - Jubilee exhibition, Hungarian National Gallery, Budapest |
| | Dr. István Rácz The exhibition of collection, Rippl-Rónai Museum, Kaposvár |
| | Atatürk Kulturcentrum, Istambul |
| | I. International Drawing Biennale, Nürnberg |
| 1977 | Intkunst, Vienna |
| | Duisburg |
| | Hungarian weeks, Mexico |
| | Painting '77, Art Gallery, Budapest |
| 1976 | Cagnes-sur-Mer |
| | Art Colony of Csongrád's exhibition, Csongrád |
| | Art Gallery, Budapest |
| 1975 | Art Gallery, Budapest |
| | I. Szolnok Painting Triennial, Szolnok |
| | Vásárhely Autumn Exhibitiont, Hódmezővásárhely |
| 1974 | Studió '74, Ernst Museum |
| | IV. National Watercolor Biennial, Eger |
| | |
| | Works in public collections |
| | |
| | János Damjanich Museum, Szolnok |
| | Ottó Herman Museum, Miskolc |
| | Janus Pannonius Museum, Pécs |
| | Hungarian National Gallery, Budapest |
| | Ferenc Móra Museum, Szeged |
| | Sándor Nógrádi Museum, Salgótarján |
| | Castle Museum of Ráckeve, Ráckeve |
| | Rippl-Rónai Museum, Kaposvár |
| | Szófia National Gllery, Szófia |
| | Szombathely Gallery, Szombathely |
| | János Xantus Museum, Győr, |
| | Doszpod-, Körmendi-Csák Collection |
| | Layota Art Studio |
| | Grödinge (SVE) |
| | Rácz-, Szepesi-, Várkonyi-collection |