Gábor Szenteleki
2007. September 08. - September 23.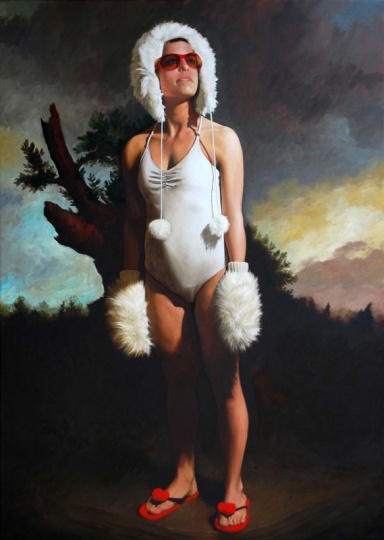 The paintings of the young artist Szenteleki Gábor represent the harmony of the traditional painting and contemporary art; it is the world of the traditional symbols and the contemporary cultic objects, of the realistic view and the subtly interpreted, the things that can't be put into words and - coming out of it's truth - not visualised.

He shows us through human caracters, sitations and relations how instinctive or consciously our reactions and actions are, and how we behave outside our everyday masks.

To show all this he uses humor - all the way beginning from the simple gag to very serious irony. Directly recognizable or in simbolical form such scenes appear, like the emotion of fear or anger, stupidness and superstition, the gest of showing and hiding. His paintings are at the same time demanding and feeling, the "mirror" in this case doesn't only mean confrontation, but offers also an open connection to reflect.
Impressions from the exhibiton