Master and pupil - exhibition of János Vaszary, Gyula Hincz and Károly Reich
2011. May 05. - May 22.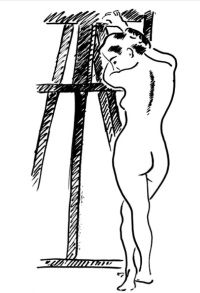 The current exhibition of the Koller Gallery embraces a whole century and offers a selection of the legacy of three Hungarian masters of graphics. Three links of a chain of the Hungarian graphical past, of its zenith. János Vaszary, Gyula Hincz, Károly Reich. They stand alone and are still connected. Their habitus in the graphical genre differs, expresses stylistic elements differently – with the integration and mediation of modern European intentions or poetic visualisation- but the pursuit of perfection combines them.
Furthermore: Master and pupil. János Vaszary's mentors are not present, but it is well-known, that Gyula Hincz was his student. Just as Károly Reich was Hincz' student. Reich never taught in an institution, but his works had and still have a great influence, generations grew up with his illustrated books.
János Vaszary's works are part of this extraordinary exhibition with the kind support of the Hungarian National Gallery, the works of Gyula Hincz and Károly Reich with the kind permission of the family members. This selection in honour of three outstanding artists of the Hungarian graphics is accompanied by a bilingual catalogue, published by the relatives and the Koller Gallery.

A representative catalogue has been published for the exhibition, also in english.
Impressions from the exhibiton