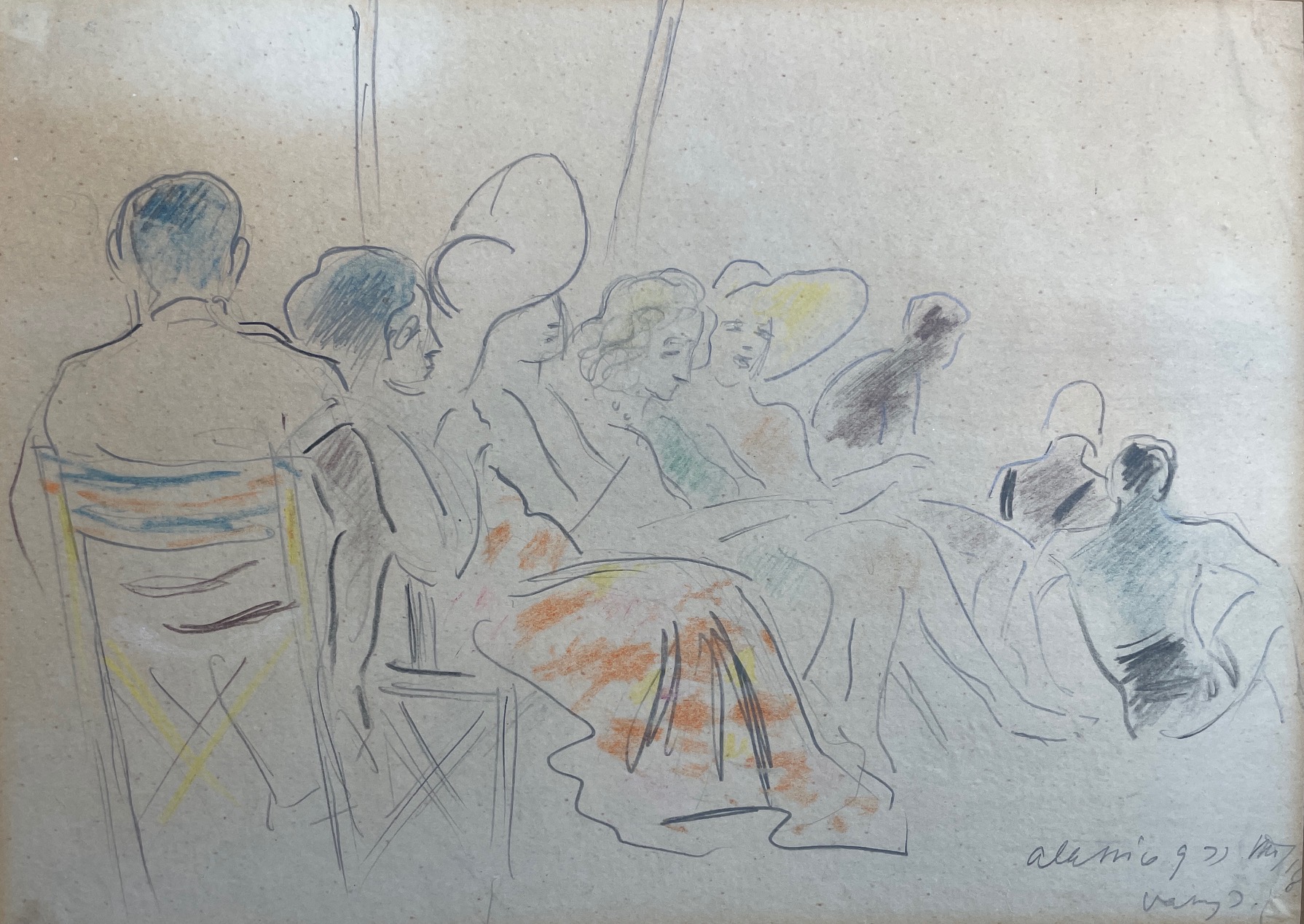 Private collection Hungary
Description
János Vaszary was not only a connoisseur, but also an excellent follower of 20th-century European art endeavors. He completed his studies at the School of Design with Bertalan Székely and János Greguss, and after 1887 he studied in Munich. As a result of Jules Bastien-Lepage's exhibition in Munich, he headed for Paris, to the Julian Academy. He was greatly influenced by Simon Hollósy and the group of painters from Nagybánya. Although he mostly worked as a painter, his tapestries and graphics are also worth mentioning. Due to his excellent sense of color, drawing and composition skills, he is considered one of the most important Hungarian painters in the canon of art history. In his graphics, he brings the figures to life with a few dynamic lines, and is able to convey the mood with restrained colors.
His chalk drawing entitled "Alassio" depicts vacationers in the Italian seaside resort. Alassio and his beachgoers can be found in several of Vaszary's pictures. Thus in the pictures Alassió (1932) and Alassiói strand (Alassió beach) (1938). The drawing shown here is a complete picture, despite its sketchiness. Although the sandy grass and the endless body of water are missing next to the shapes drawn with fine lines, you can still feel the atmosphere of the Mediterranean coast.
(Fábian Takáts)
Details
Artist
Vaszary, János (1867 - 1939)
Technique
pencil, chalk on paper
Year of creation
Packaging and free Shipping

With 25 years of experience in shipping Art worldwide, we provide safe packaging and shipping to our customers. Shipping and packaging are free of charge only if the list price shown on our website is accepted without discount or lower offers.

Shipping of etchings, lithographs and prints comes usually in tubes without the frame to be safe

For Shipping of paintings and sculptures we provide individually created wood boxes
The fine photography is packaged in safety boxes

All our packages we ship are insured (all risk)