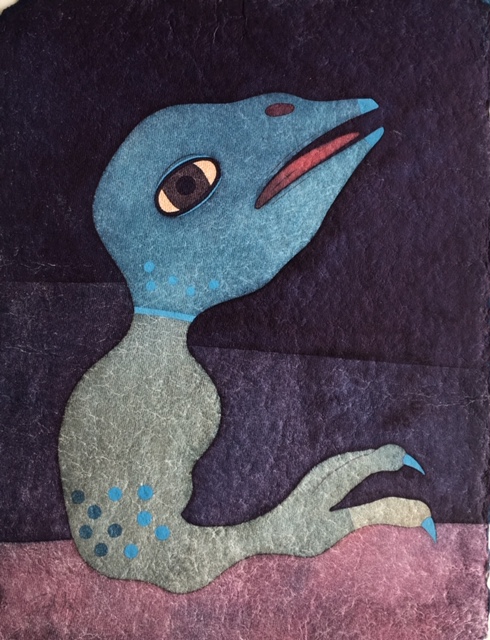 Private collection Hungary
Description
The characters in Péter Földi's paintings come from the world of folk tales and traditions. One such recurring favorite character in his brightly colored works is the bird, which the creator has painted many times before. Even the grandson of a blue bird can look at such a strange animal with human traits.
This little thing takes on a bizarre shape in the artist's picture. He looks at us with his plate-sized sad brown eyes, his gaze quite human. The light blue head is large, like that of a chick, and the beak is mouth-shaped. He hadn't even begun to tear his wings as a kid, but all the more he would release his claws in a predatory way. Péter Földi's blue bird is located in front of a square with a triple division (pink, dark blue, and black), from which the image of the distorted "creature" painted with light color emerges in a flat, conspicuous way.
In the way he depicts the painter's works, he follows the compositional, stylistic features of children's drawings and Egyptian art. This can also be seen in his painting The Grandson of The Blue Bird, where the space for decorative and planar composition is filled only by the "grandson" of the happy blue bird of playwright Maurice Maeterlinck.
The blue bird evokes the expressiveness, lyrical abstraction of Jackson Pollock and Hans Hartung, the suggestion of Lajos Vajda and Imre Ámos.
He painted the work of the artist in a special way, with an aqueous stain. He applied the paint layer thickly, in strands to his image, thus enriching the nuance of plasticity.
In his work, Péter Földi follows the unassuming, cosmic worldview of children's drawings and "neoprimate painting". This is also evidenced by the grandson of the Blue Bird, which bears such characteristic features of the artist.
Details
Artist
Földi, Péter (1949 - )
Title
Blue bird's grandchild
Technique
mixed technique, paper
Packaging and free Shipping

With 25 years of experience in shipping Art worldwide, we provide safe packaging and shipping to our customers. Shipping and packaging are free of charge only if the list price shown on our website is accepted without discount or lower offers.

Shipping of etchings, lithographs and prints comes usually in tubes without the frame to be safe

For Shipping of paintings and sculptures we provide individually created wood boxes
The fine photography is packaged in safety boxes

All our packages we ship are insured (all risk)