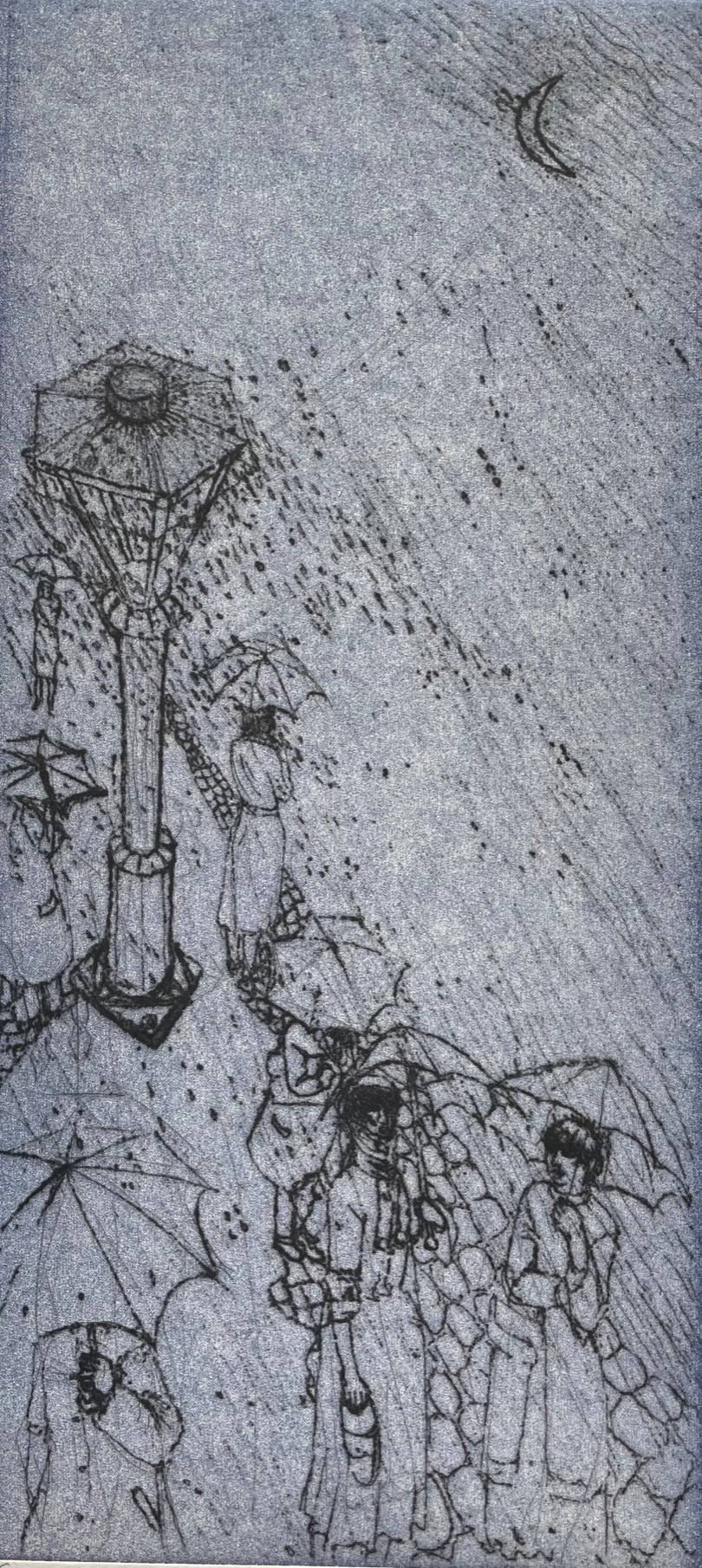 Private collection Hungary
Description
Imre Varga, a sculptor with the title of national artist and Kossuth Prize winner, entered the public consciousness as a diverse artist. He also created monumental public sculptures, small sculptures, monuments and portrait monuments in all branches of sculpture, but he also dealt with the design and supplementation of decorative sculptures, and his significant medal art. The works of Imre Varga, who also made board images, gobleins and graphics at one stage of his career, are available not only at home, but also abroad, in Belgium, France, Poland, Germany, Norway and Israel. He also created one of his groups of sculptures in Hungary in the form of graphics for the Waiting People in Óbuda, we can see that now.
In Etching we see the female figures of the group of sculptures, also referred to as Umbrellas, to whom a separate story is attached. Seeing the street girls in Paris standing in the rain, Imre Varga was inspired to make his group of sculptures. "As I saw those unfortunate girls waiting in the net under the gate in the snow in the snow, I was terribly ashamed of the wild alien kuncsaft. Then, when I came home, I made these four prostitute figures, who are standing in the rain with their small bags under their arms, waiting for the kuncsaft in 2009. " how great a spectacle these ladies holding their umbrellas are.
In the form of graphics, Imre Varga only captured the umbrella ladies of Óbuda in one work. His work perfectly shows that he was at home not only in the processing of the material, but also in the drawing.
Details
Artist
Varga, Imre (1923 - 2019)
Technique
etching on paper
Year of creation
1980-ies
Signed
signed: Varga Imre 64/100
Condition
Packaging and free Shipping

With 25 years of experience in shipping Art worldwide, we provide safe packaging and shipping to our customers. Shipping and packaging are free of charge only if the list price shown on our website is accepted without discount or lower offers.

Shipping of etchings, lithographs and prints comes usually in tubes without the frame to be safe

For Shipping of paintings and sculptures we provide individually created wood boxes
The fine photography is packaged in safety boxes

All our packages we ship are insured (all risk)