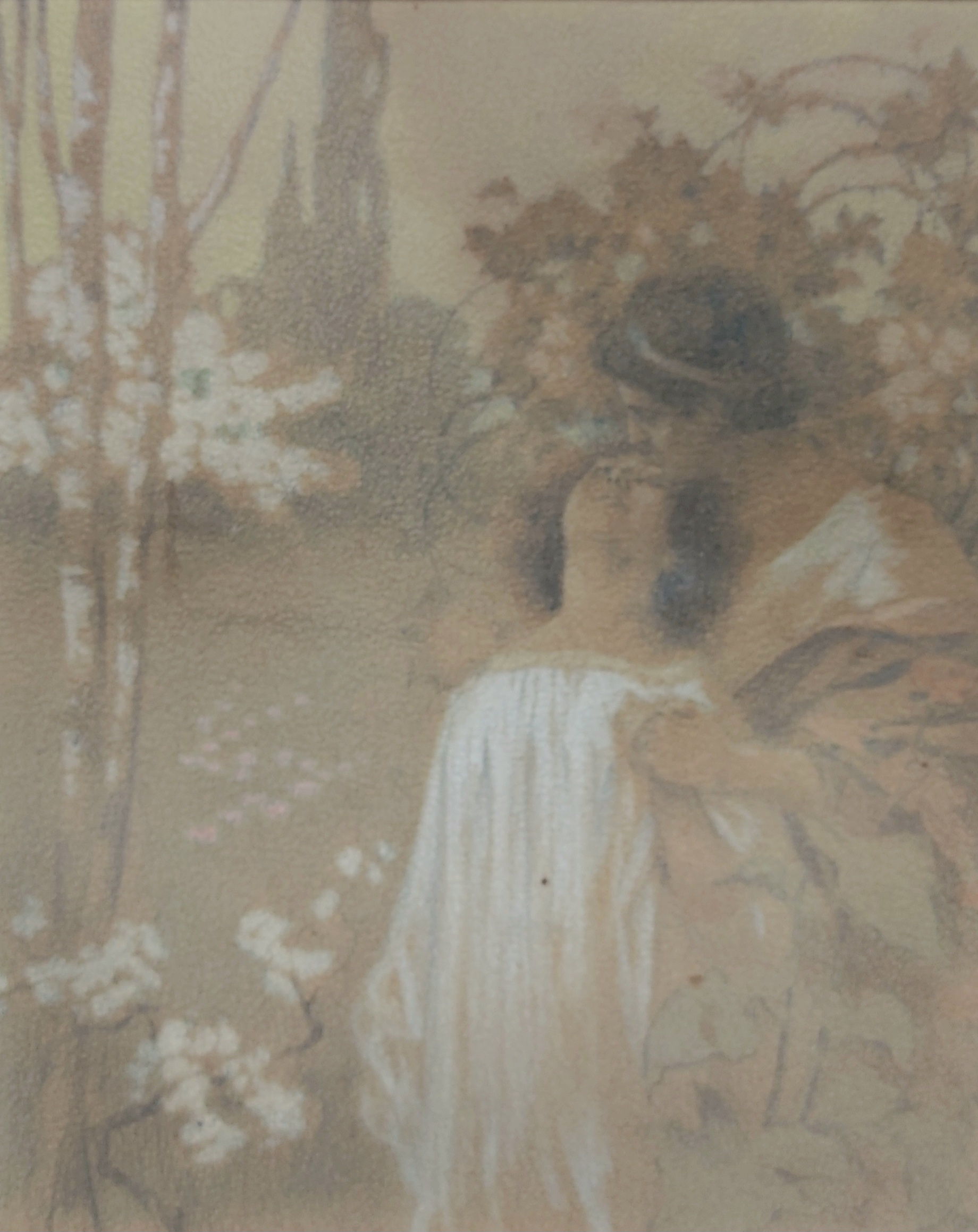 Private collection Slovakia
Description
Ferenc Helbing was born in Érsekújvár in 1870 and was a graphic artist, painter and illustrator at the same time. He completed his art studies at the School of Applied Design and the College of Applied Arts in Buda, and later became a graphic arts teacher at his former institutions.
He developed his work in the field of applied graphics. It would be difficult to list what he designed: stamps, banknotes, medals, but he also created unique graphic pages and art nouveau style book illustrations.
Ferenc Helbing was also an excellent copper and wood engraver and lithographer, one of the pioneers of Hungarian advertising graphics.
The etching entitled "Couple" is best suited as an Art Nouveau poster, but the influence of the English Pre-Raphaelites can also be felt on it. We see a couple in love in a park of unreal beauty. Their clothing follows that of the ancient Romans: a toga with wide sleeves and a stole. They stand like statues, huddled together. The creator conveys their intimate happiness and tranquility with blurred, pastel colors.
"I was one of the first to fight for the new style in graphics at home […] and I did pioneering work in this field," testified Helbing. Seeing his idyllic etching, we can agree with him.
(Fábian Takats)
Details
Artist
Helbing, Ferenc (1870 - 1958)
Technique
pencil, pastell on paper
Year of creation
Packaging and free Shipping

With 25 years of experience in shipping Art worldwide, we provide safe packaging and shipping to our customers. Shipping and packaging are free of charge only if the list price shown on our website is accepted without discount or lower offers.

Shipping of etchings, lithographs and prints comes usually in tubes without the frame to be safe

For Shipping of paintings and sculptures we provide individually created wood boxes
The fine photography is packaged in safety boxes

All our packages we ship are insured (all risk)