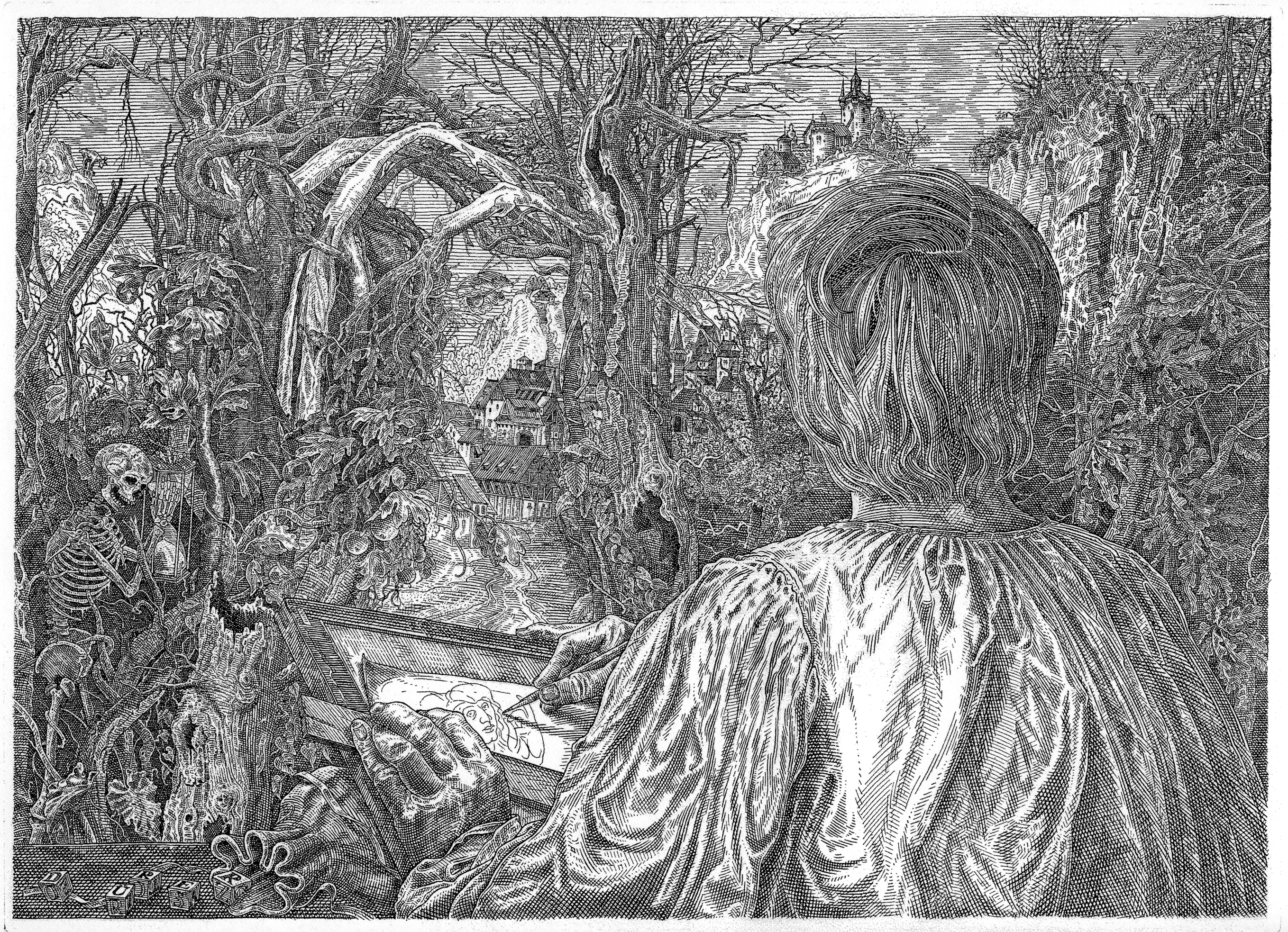 sold to a private collection (Hungary)
Description
István Orosz's newest graphics shows a detail of a studio. On the table spreaded with papyrus roll, there are geometric tools: ruler, compass, pencils, and a block-like object. On the both sides for the table there are books on shelves. The notepads pinned to the top edge of the image witness feverish work. But what is that, what interest the creator so much?
Orosz created his serie "Dürer's memorial cards" for six years, to remember to the artist's 500th anniversary. This artwork (as the title also suggests) is a paraphrase of Albrecht Dürer's graphics: Melencolia. The symbols and numerical symbolism of Dürer's mysterious and anamorphic image were interpreted by many artists and the fact that István Orosz is also an excellent expert of Dürer's spirituality is symbolized by the key hanging in the middle of the image. The main element of his grafic is the mysterious object, the polyhedron, which projections can be seen on the notebooks. In the patches of the stone block appears the human skull, which also appears on the Dürer's engraving. The objects that also appear on the Orosz's etching: compasses, rulers, tools and pencils, are the devices for the creator, which following the path of the great master's. The subtotal for the numbers written in the magic square is 212, which refers to the past five centuries, and we can also get the date of creation Orosz's artwork.
Orosz's detail-rich etching is highly processed and shows the artist's virtuoso drawing knowledge. His serie is a tribute to Dürer's oeuvre. What inspirates him to reinterpret the drawings of the Renaissance master? It is the search for a spiritual path, that's why he also makes anamorphoses, what invite to think to the viewer. "We have to be skeptical with the seemingly obvious claims, and believe that the world has another hidden side too, which is more difficult to find, but sometimes this searching could be more exciting."-says Orosz.

Details
Artist
Orosz, István (1951 - )
Title
Dürer in the forest
Technique
etching on paper
Signed
bottom right: Orosz István
Packaging and free Shipping

With 25 years of experience in shipping Art worldwide, we provide safe packaging and shipping to our customers. Shipping and packaging are free of charge only if the list price shown on our website is accepted without discount or lower offers.

Shipping of etchings, lithographs and prints comes usually in tubes without the frame to be safe

For Shipping of paintings and sculptures we provide individually created wood boxes
The fine photography is packaged in safety boxes

All our packages we ship are insured (all risk)