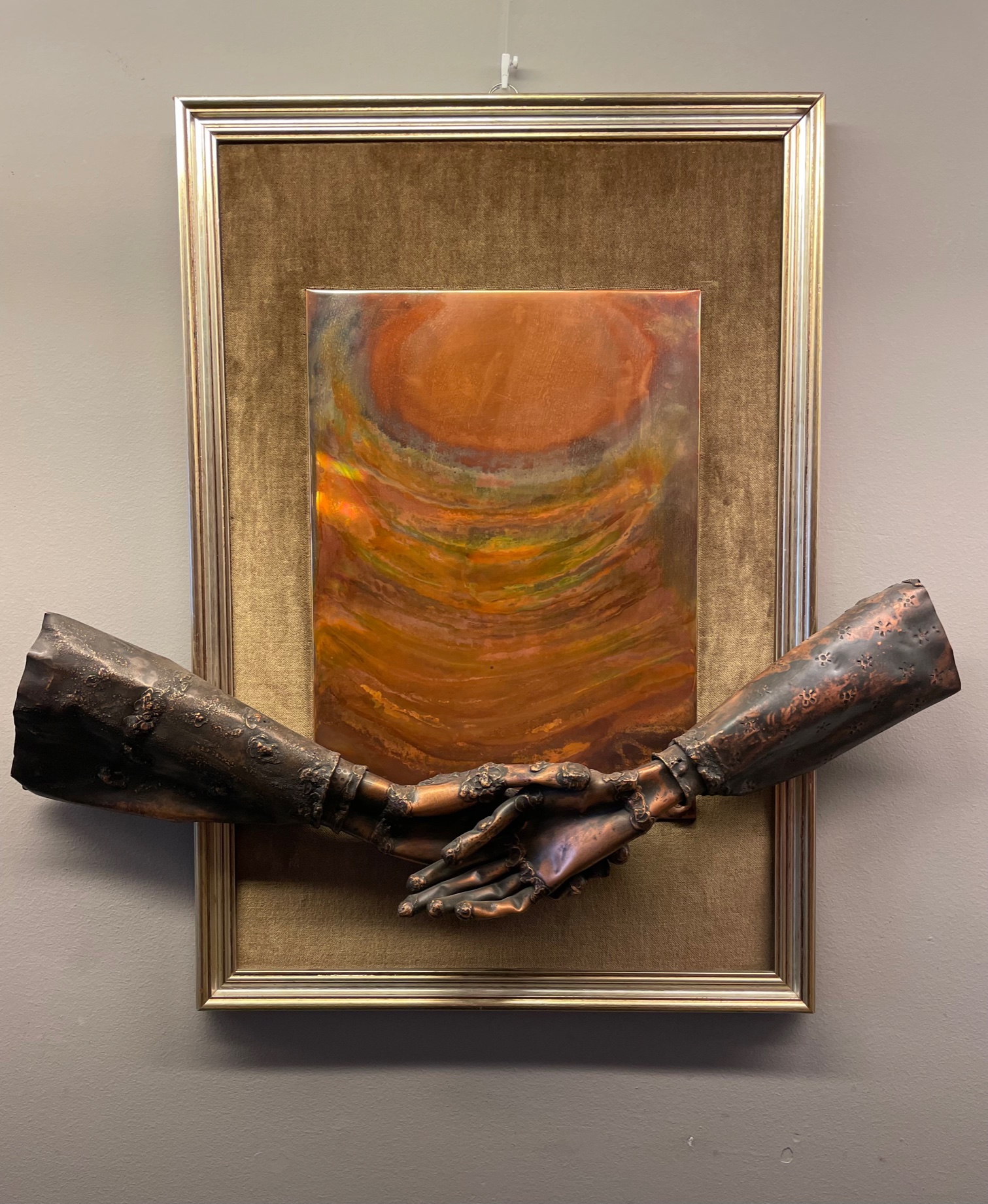 Private collection Hungary
Description
The son of the Kossuth Prize-winning goldsmith-sculptor István Madarassy studied at the Hungarian College of Applied Arts, where his masters were József Engelsz and Gyula Illés. The "repertoire" of the internationally acclaimed artist, which has been exhibiting since 1974, is very wide, ranging from small sculptures and monumental public sculptures to goldsmith's works, but also deals with sculptural and applied art reconstructions, restorations and set design. In the autonomous sculpture of István Madarassy, ​​his small sculptures and large - scale sculptures and reliefs mostly depict the symbols and figures of sacred iconography, but one of his works shows the well - known handshake of one of the emblematic works of Renaissance painting.
The hand of the Arnolfini couple, or the "handshake," depicts the "mere" handshake of the Italian supporter and wife of Giovanni di Nicolao Arnolfini, the two supposed protagonists of the painting. The upstairs swearing hands also refer to the engagement or marriage of a couple not seen in the work. However, according to some interpretations, because it is as if a woman's hand is about to slip out of her man, this ceremonial, almost formal gesture has more of an official, symbolic value than an expression of closeness, togetherness.
Whatever the truth, István Madarassy excellently reshaped the famous handshake of the portrait of Jan van Eyck in bronze.
Details
Artist
Madarassy István (1948 - )
Title
Hands for the Arnolfini couple
Technique
Mixed technique, textile, copper (unique piece)
Packaging and free Shipping

With 25 years of experience in shipping Art worldwide, we provide safe packaging and shipping to our customers. Shipping and packaging are free of charge only if the list price shown on our website is accepted without discount or lower offers.

Shipping of etchings, lithographs and prints comes usually in tubes without the frame to be safe

For Shipping of paintings and sculptures we provide individually created wood boxes
The fine photography is packaged in safety boxes

All our packages we ship are insured (all risk)