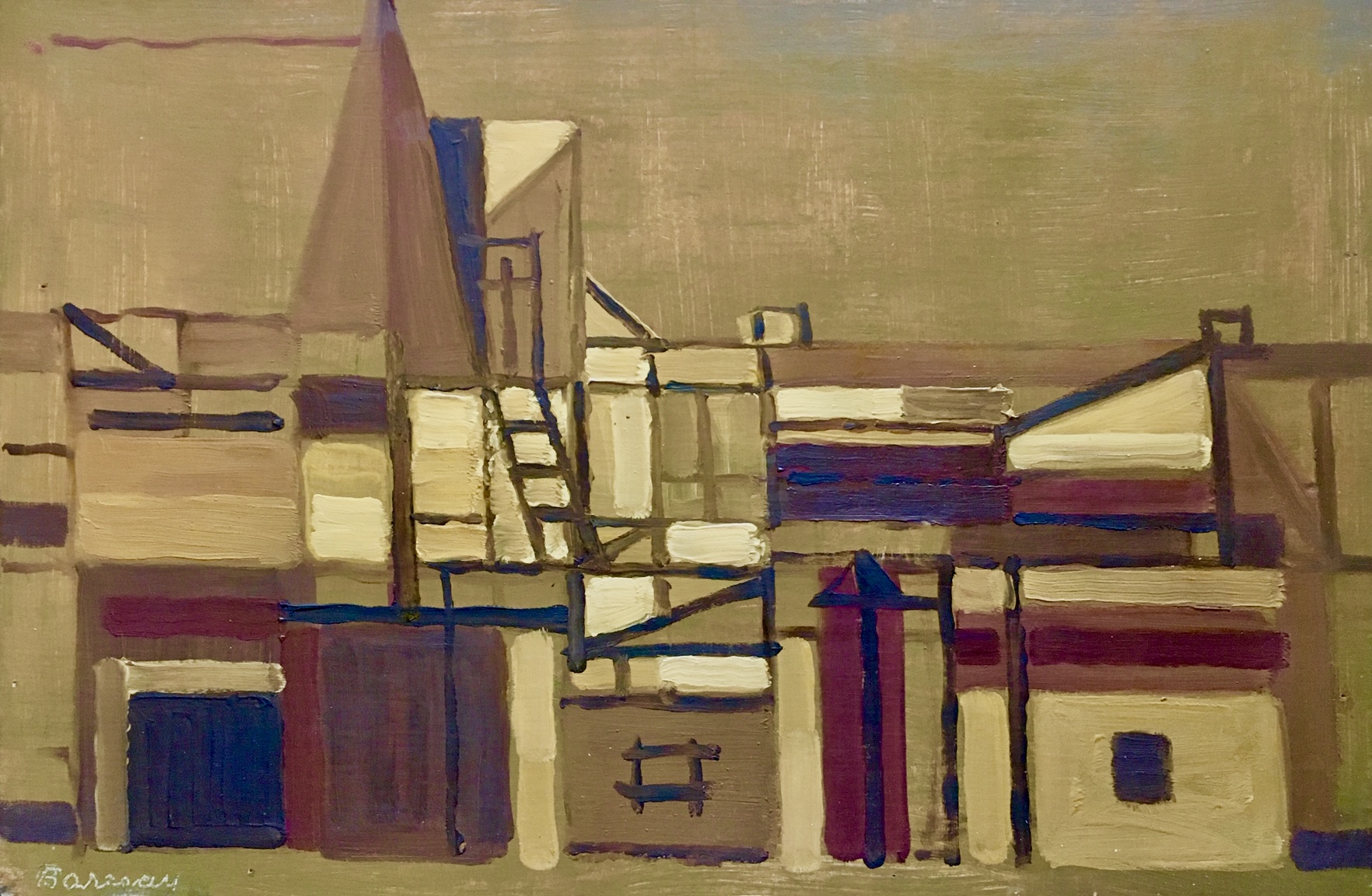 Private collection (Hungary)
Description
Barcsay is a peculiar Hungarian representive of constructivism.
In his pictures the relationship between objects and forms appears. His abstract paintings are accentuated by bright colours. From 1929. he gradually developed his individual unmistakable style. From 1938. he approaches the nonfigurative constructivist trend. His paintings depicting streets were built from geometric forms. The artist's constructivist work entitled "House walls" also depicts such a street scene. The buildings in the pictures composed of line, triangles and squares ware constructed in strict rhythm. Elements of Barcsay's work are devided bt thickly drwans strong conturs. It's gloomy colour scheme is interrupted by the rich scale of brows and greys with contrust of white. He intends to catch the harmony arranged in the plane of built enviroment. "I strive for the purity of the expression, so I consider the honor of means to be important, owing to this I am interested a lot in lines, shapes, spaces, colours, the problem of composition that is how this factors relate to each other on one hand, and how they relate to the expression on the other. : sad Barcsay who is one of the most influental modern Hungarian painter. His picture entilted "House walls" which were painted with oil technique is characteristic piece of the artist's Szentendre period in the sixties. It provides a clear experience even being of the high degreee of abstraction.

Details
Artist
Barcsay, Jenő (1900 - 1988)
Signed
Barcsay (bottom left)
Packaging and free Shipping

With 25 years of experience in shipping Art worldwide, we provide safe packaging and shipping to our customers. Shipping and packaging are free of charge only if the list price shown on our website is accepted without discount or lower offers.

Shipping of etchings, lithographs and prints comes usually in tubes without the frame to be safe

For Shipping of paintings and sculptures we provide individually created wood boxes
The fine photography is packaged in safety boxes

All our packages we ship are insured (all risk)