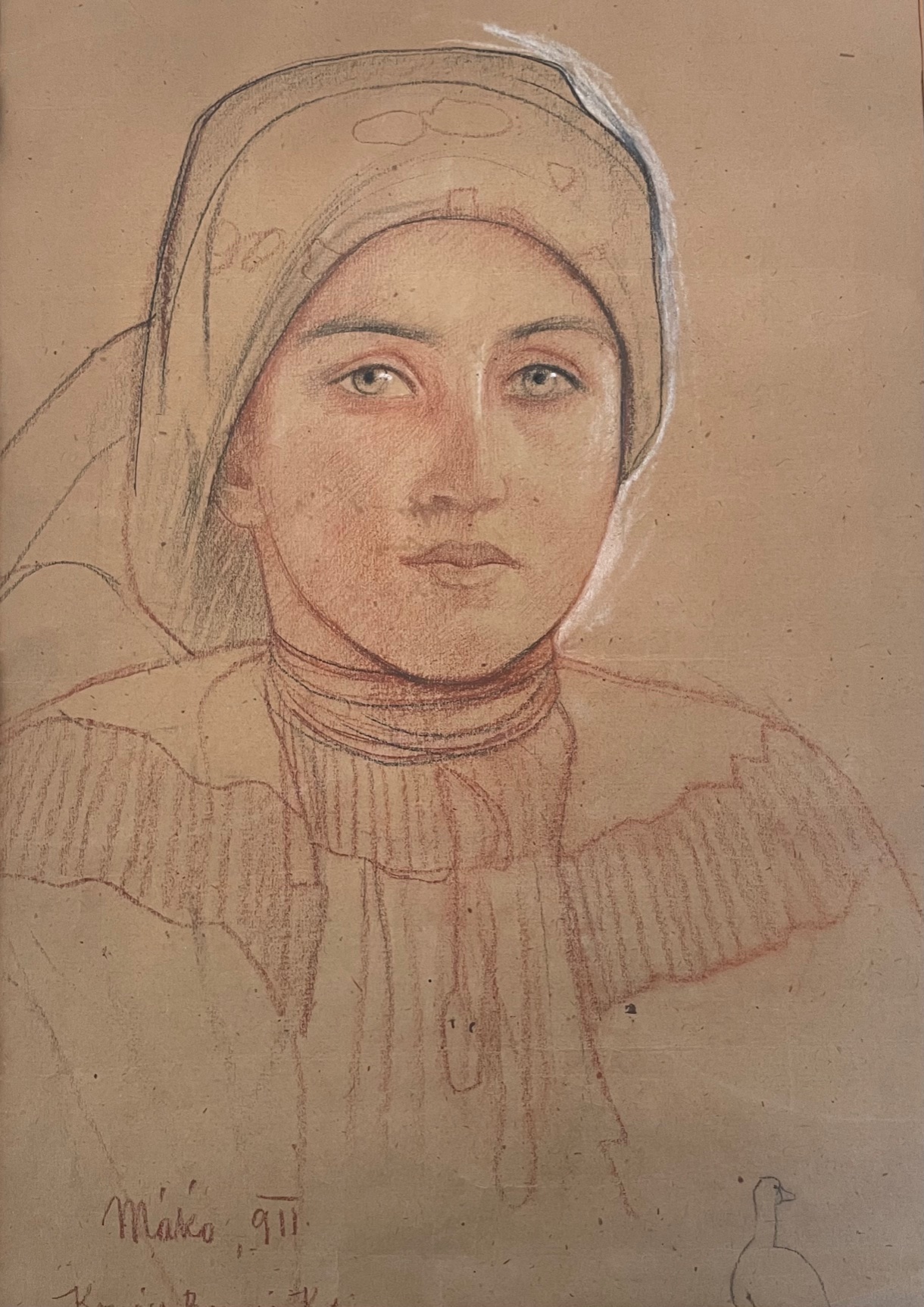 Private collection Hungary
Description
Aladár Kőrösfői-Kriesch, the excellent creator of Art Nouveau, was the masters of Károly Lotz and Bertalan Székely during his studies at the School of Design. The young student of painting also visited the Julian Academy in 1894, while also studying in Italy and Spain. The young Kőrösfő settled in Gödöllő in 1901, where he founded the artists' colony in Gődöllő together with the painter Sándor Nagy. Together with the other creators of the colony, they tried to revive the medieval painting techniques of the fine arts under the influence of John Ruskin and the Pre-Raphaelites. However, their greatest merit was the introduction of the Hungarian Art Nouveau and the study of Hungarian handicraft and folk embroidery motifs.
Körösfő's oeuvre includes a large number of paintings, applied art plans, but also graphics. One of his works made on such a cardboard sheet is also the portrait of Kati Kovács Bancsi, in which we can see a young girl wearing folk clothes and a headscarf, who looks at us with confidence and radiates soft femininity with her delicate features. The lifelike eyes and lips of the "gentle" yet drawn lines show how well Kőrösfő handled the pencil and how well he drew his models. Written by Aladár (the original work and study of my late husband Aladár Kriesch from Kőrösfő) proves that we can see a truly original picture of Kőrösfő.
Details
Artist
Körösfői-Kriesch Aladár (1863 - 1920)
Technique
mixed technique, board
Signed
signed: Makó 911 Kovács Bancsi Kati and on the back by the widow of Körösfői
Condition
Packaging and free Shipping

With 25 years of experience in shipping Art worldwide, we provide safe packaging and shipping to our customers. Shipping and packaging are free of charge only if the list price shown on our website is accepted without discount or lower offers.

Shipping of etchings, lithographs and prints comes usually in tubes without the frame to be safe

For Shipping of paintings and sculptures we provide individually created wood boxes
The fine photography is packaged in safety boxes

All our packages we ship are insured (all risk)