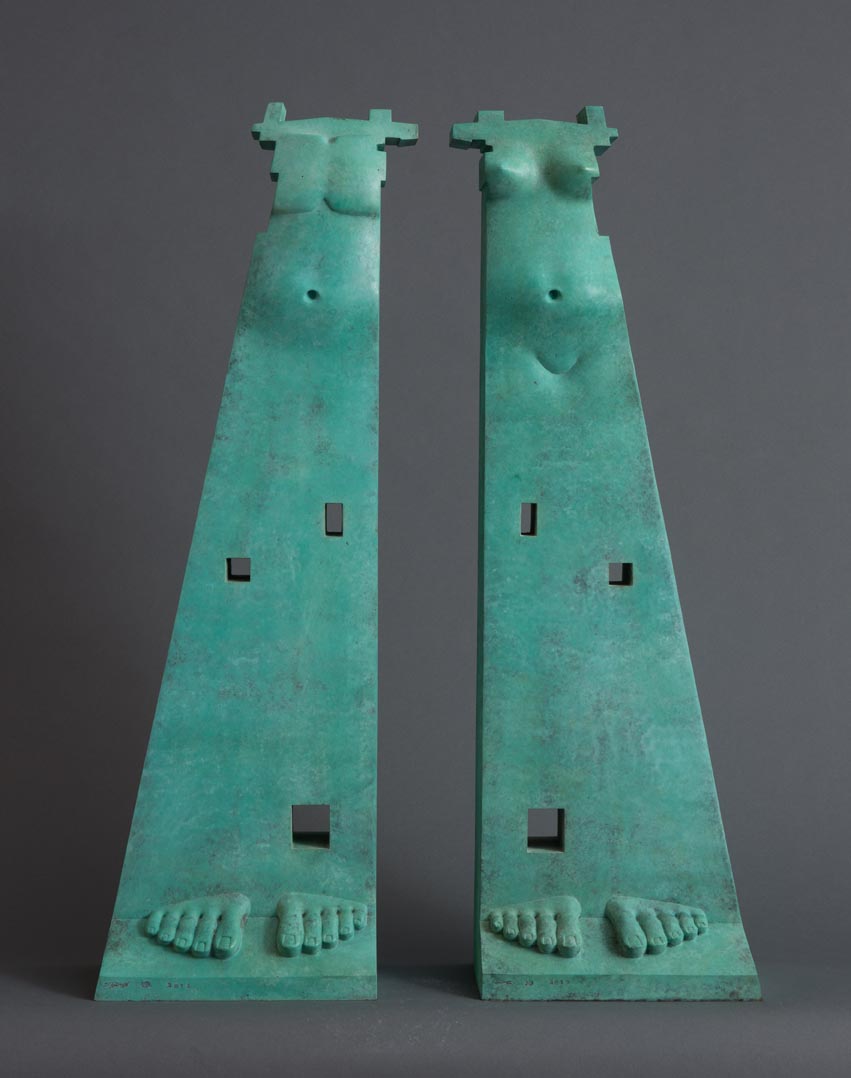 Private collection Hungary
Description
László Taubert's works mostly evoke the Kuros and Koré figures of archaic Greek sculpture, his works are special idols, special, stylized versions and modern variants of idealized Greek sculptures. Taubert works with varied and noble materials: Carrara marble, limestone, bronze, and among his works we find numerous male or female torsos standing alone or in pairs. One such blue patinated bronze sculpture is the Lighthouse pair.
We see male and female figures emerging from two slabs of stone. Their toes, abdomen, navel, and chest merely indicate the sex of the closely spaced figures. The cohesiveness of Taubert's bronze figures is reinforced by a trapezoid along the pedestal and sides of the sculptures. Their uniform size, the square openings placed in the same places, even without their direct contact, form an ensemble, a party, just as a man and a woman.
With the exception of the finely machined reliefs, they do not act as human bodies, but rather as a tower-like structure. Hence the unshakable tranquility of small sculpture, the security that a lighthouse rising on a shore can provide.
László Taubert's figural bronze pair, using elements of archaic Egyptian and Greek sculptures and infinitely simplifying them, is a constructive, modern creation.
With the art of László Taubert, he also strives for a kind of renewal of figurativeness. The archaic torsos of the Lighthouse pair also bear witness to this.
Details
Artist
László Taubert (1966 - )
Title
Luminous column couple
Packaging and free Shipping

With 25 years of experience in shipping Art worldwide, we provide safe packaging and shipping to our customers. Shipping and packaging are free of charge only if the list price shown on our website is accepted without discount or lower offers.

Shipping of etchings, lithographs and prints comes usually in tubes without the frame to be safe

For Shipping of paintings and sculptures we provide individually created wood boxes
The fine photography is packaged in safety boxes

All our packages we ship are insured (all risk)