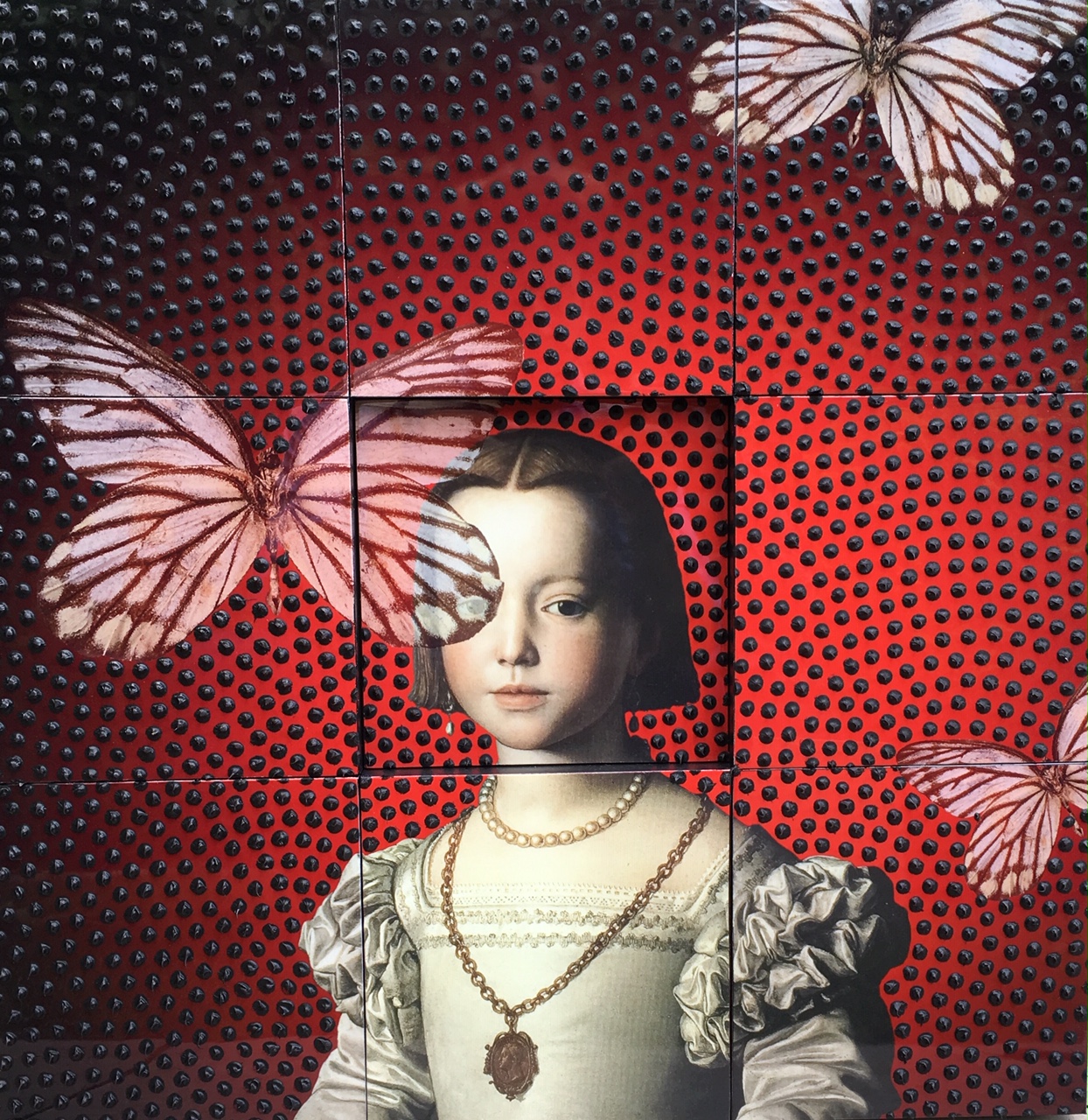 sold to a private collection (USA)
Description
This artwork reconsiders the renaissance Florentine painter Agnolo Bronzino's work which portrays I. Cosimo de Medici grand duke's daughter Bianca de Medici in Toscana. There is an own portrait on the girl's hanging necklace medallion which represents the bond between him and his daughter.
According to art historians this portray was created in 1542, after Bianca's death. Therefor it shows similarity with Bronzino's former artwork about Lucrezia Panciatichi's portrait. He took the settings and the stiff posture from that artwork. According to an art historian Gabrielle Langdon, Bronzino painted the child in white satin and pearl because it gives brightness for the picture "like a celestial radiance". The child's name is Bianca (white) means childlike innocence.
Also the girl's skin is unearthly, pale white. The searches say the artist painted Bianca de Medici's face after her funeral.
Marco Veronese said in his declaration in 2016, that in Renaissance era everything was reborn and today the same needed.
The re-explanation of the Bronzino's portrait: victory is above death. The portrait in the black frame will be a masterpiece forever. This portrait is framed by blue butterflies and skulls on the other pieces of this series. The butterflies are the symbol of the fragility, the fate but also symbolize the beauty and soul.
In childhood of the Italian artist the determinant memory was the book "From Renaissance to Manierism" and through this book he discovered the beauty of art. Marco Veronese thinks that a more spiritual being is necessary for the today's people. He would like to confirm this thought in his "Renaissance" series by create them with contemporary methods.
Details
Artist
Marco Veronese (1962 - )
Technique
digital print, pvc, silicon
Packaging and free Shipping

With 25 years of experience in shipping Art worldwide, we provide safe packaging and shipping to our customers. Shipping and packaging are free of charge only if the list price shown on our website is accepted without discount or lower offers.

Shipping of etchings, lithographs and prints comes usually in tubes without the frame to be safe

For Shipping of paintings and sculptures we provide individually created wood boxes
The fine photography is packaged in safety boxes

All our packages we ship are insured (all risk)