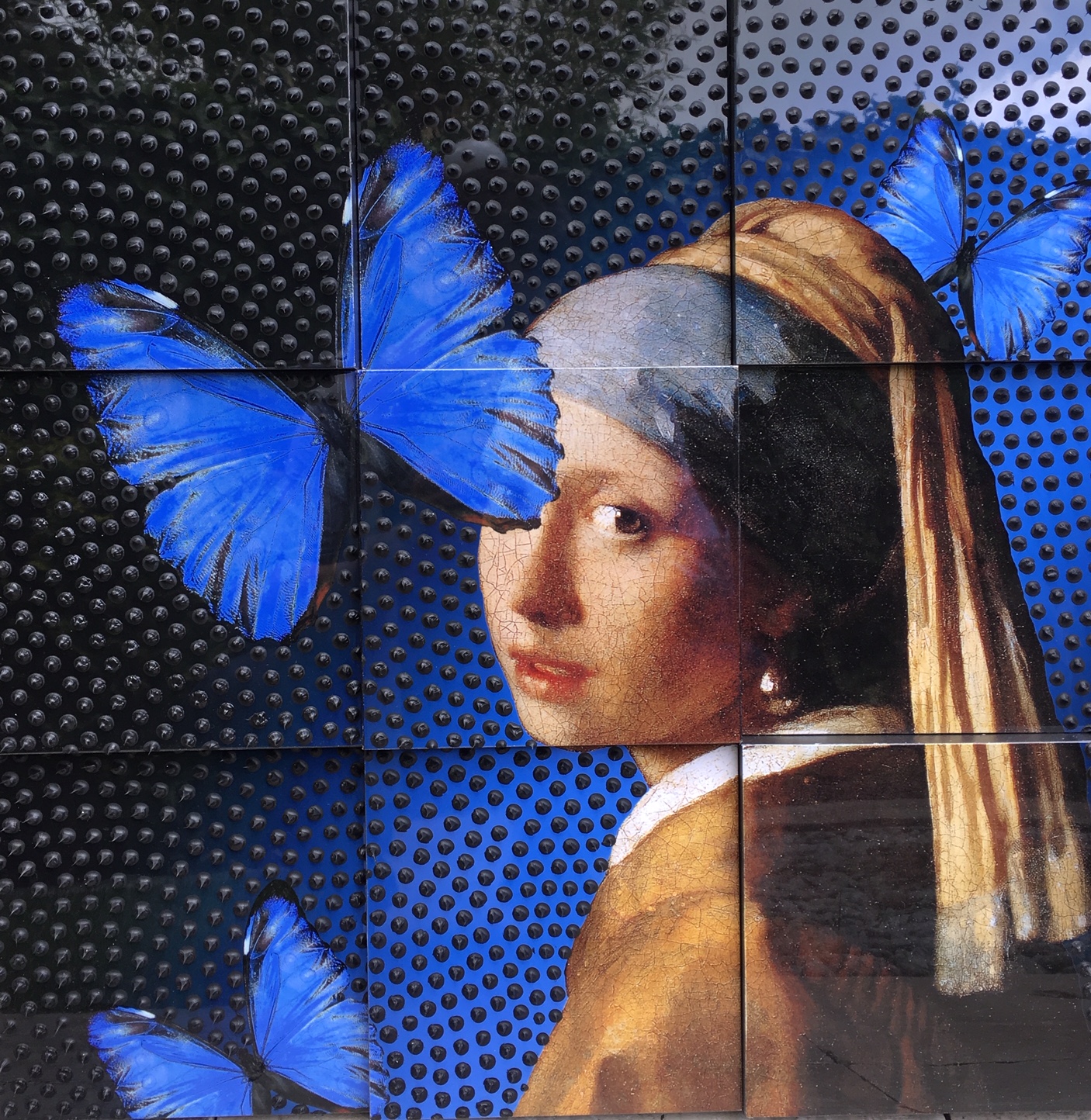 sold to a private collection (USA)
Description
The Italian Veronese composes into his creation the famed Dutch Johannes Vermeer van Delft painter's "Girl with a Pearl Earring" oil painting.
That artwork is well-known as "The Mona Lisa of North" but the so-called "Dutch Face" model 's identity is unknown.
The girl's shape shines in a gold light in front of the background and the hanging pearl earring is the symbol of the female beauty. She is wearing Belgic costume of that period and her blue turban from the 16th century implies some Turkish impression. The blue is Allah's color in the Islamic religion. The falling reseda-yellow colored material from the top of her head is the symbol of the Sun, the goodness and warmth.
The opposite standing blue and the orange complete each other for white in this color mixture. Veronese chooses this marine blue for the background and for the butterfly as well.
The short-lived butterflies are the emblem of the fragility and passing and the Vermeer's portrait represents the feminine blooming. The original artwork is cut into parts and plastically put into a new picture though still the Vermeer's painting is the central piece but also steads for the modern artist's thoughts.
This "New Renaissance" artwork from Marco Veronese's series evokes the beauty of a Dutch masterpiece. That work is reborn under his hands and motivates the spectator to relive the spirituality of the renaissance era by placed into a modern, contemporary context.

Details
Artist
Marco Veronese (1962 - )
Title
New Renaissance II.
Technique
digital print, pvc, silicon
Packaging and free Shipping

With 25 years of experience in shipping Art worldwide, we provide safe packaging and shipping to our customers. Shipping and packaging are free of charge only if the list price shown on our website is accepted without discount or lower offers.

Shipping of etchings, lithographs and prints comes usually in tubes without the frame to be safe

For Shipping of paintings and sculptures we provide individually created wood boxes
The fine photography is packaged in safety boxes

All our packages we ship are insured (all risk)