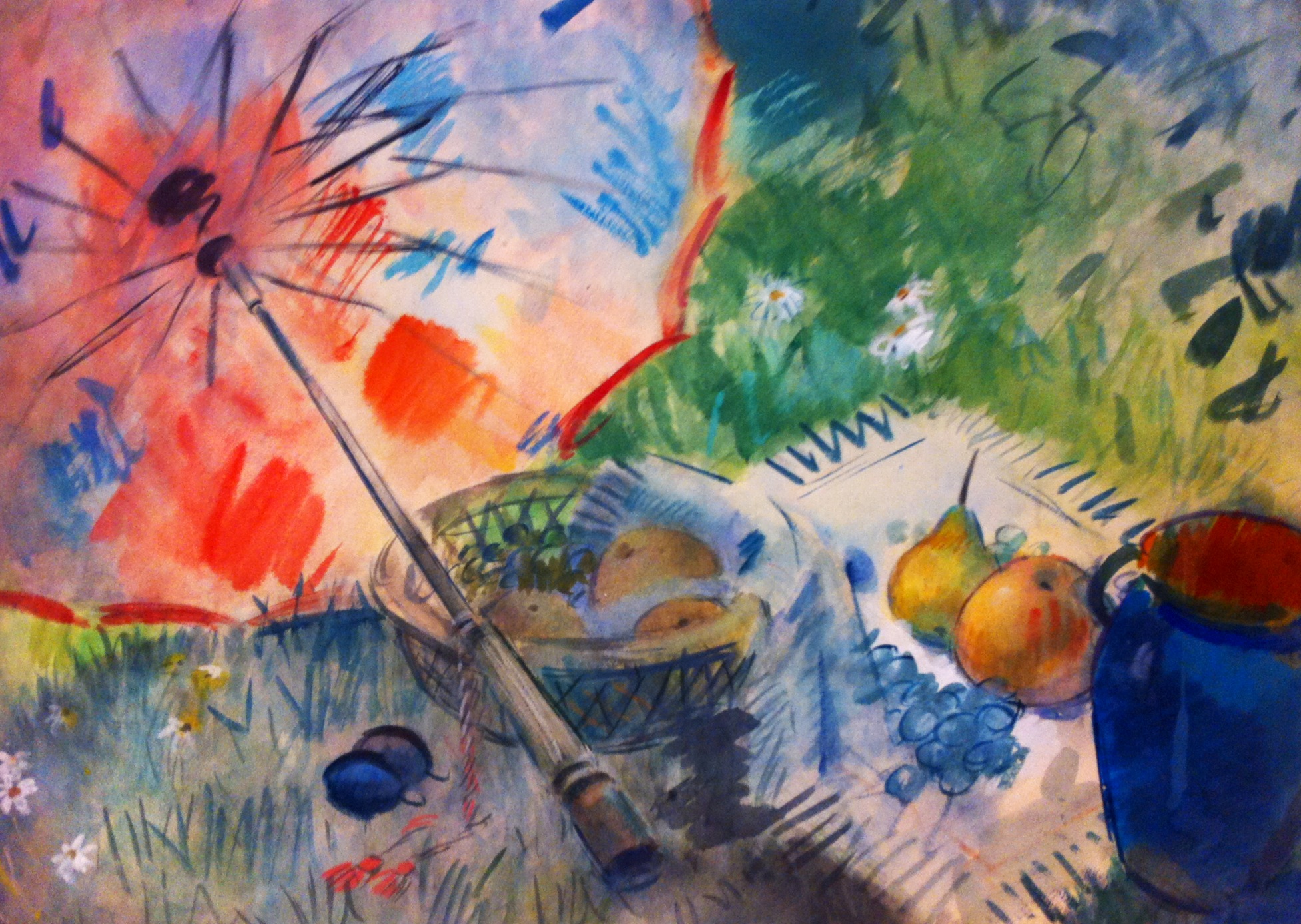 Private collection Hungary
Description
We see elements of an afternoon picnic. Ripe fruits (pear apples, plums) lie on the cloth and basket spread on the grass. Next to them is a blue jug. On the left side of the picture, a colorful parasol casts a shadow on the place setting. Colorful flowers bloom among the grass.
István Csebi Pogány in the XX. He lived and created in the 19th century, he wrote his works in the Fauvist and Colorist style, his masters were János Vaszary, István Réti and Aladár Edvi Edvi. His watercolor, Afternoon, was also made in Fauvist style. His objects in his work of art are also characterized by this approach, the vivid use of color. The work, composed of spots of color and sets, is more of a mood still life. Instead of a perspective representation, the colors and spots give the composition. The painter's work on a similar theme with Snack Blue Umbrella is greatly related to the Afternoon. István Csebi Pogány takes us into nature, a place where we can find peace, quiet and quiet. The artist seeks to capture this mood, not in a realistic way.
Details
Artist
Csebi-Pogány, István (1908 - 1979)
Title
Picnic in the afternoon
Technique
aquarel on paper
Year of creation
Packaging and free Shipping

With 25 years of experience in shipping Art worldwide, we provide safe packaging and shipping to our customers. Shipping and packaging are free of charge only if the list price shown on our website is accepted without discount or lower offers.

Shipping of etchings, lithographs and prints comes usually in tubes without the frame to be safe

For Shipping of paintings and sculptures we provide individually created wood boxes
The fine photography is packaged in safety boxes

All our packages we ship are insured (all risk)