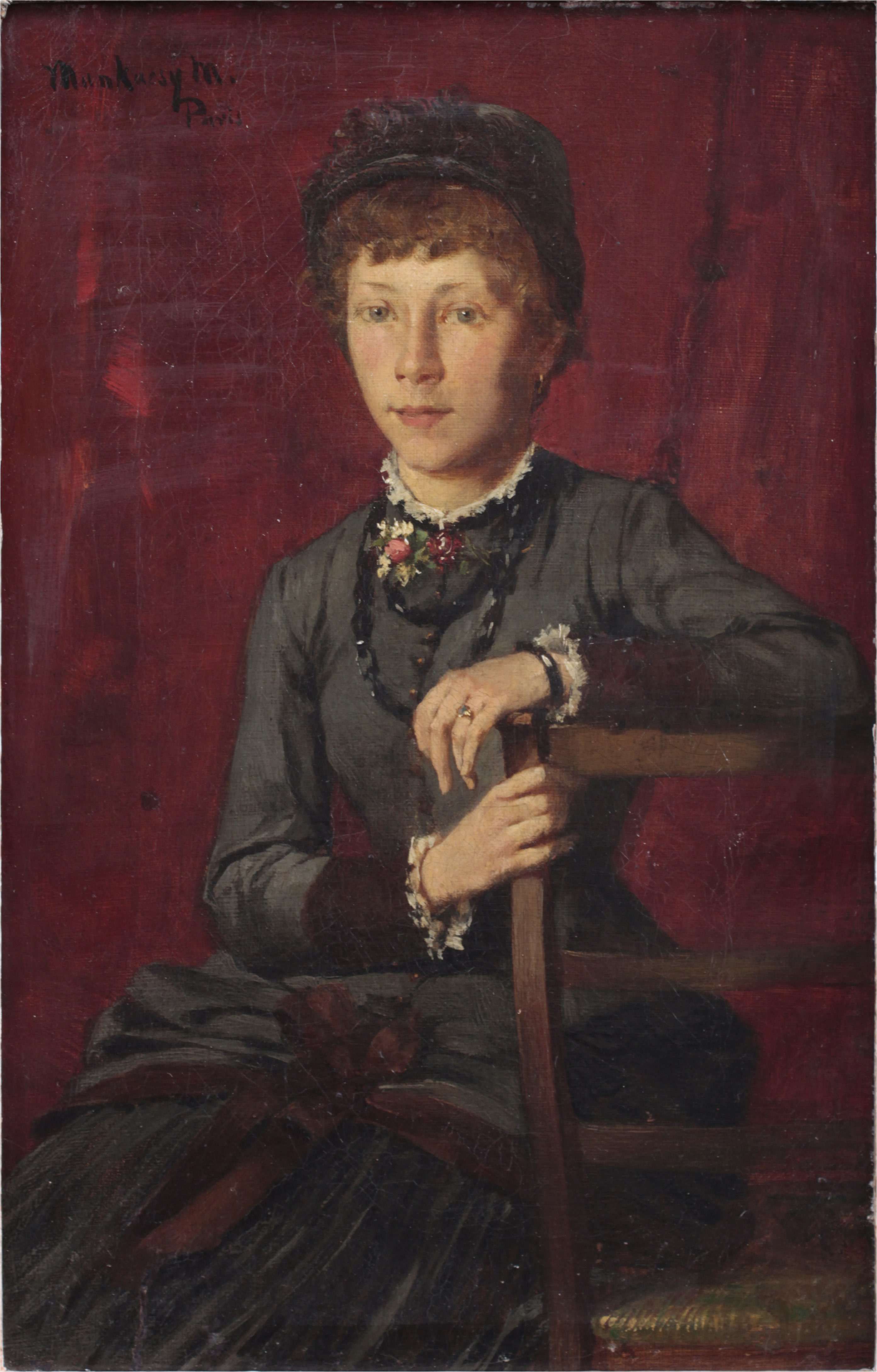 Private collection (Hungary)
Description
Mihály Munkácsy became known throughout Europe as an internationally recognized master of 19th century Hungarian painting. In addition to his outstanding realist canvases of the 1870s, he also made character portraits.
One such portrait is the portrait of the Noble Young woman, made during his time in Paris (1871-79), as evidenced by the signature in the upper left corner. In his oil painting sits a young, well-dressed girl, half facing the viewer, hanging on his neck two dark blue medallions dotted with tiny flowers, wearing a fashionable Swiss hat on his head. Munkácsy's popular themes included portraiture, and he made several portraits of women. The portrait of the noble young woman is a work of excellent quality. The work features of the model, sitting in a straight, rigid posture against a red background, are well crafted and her graceful hands are beautifully drawn. Although a significant part of Munkácsy's portraits can be identified, the identity of the ornate, gold-framed model is unknown. However, her social rank is easily recognizable from her elegant attire, suggesting that an upscale lady living a bourgeois life could have stood as a model for the master.
Details
Artist
Munkácsy, Mihály (1844 - 1900)
Title
Portrait of a young noble girl
Year of creation
around 1872
Signed
upper left: Munkácsy M. Paris
Provenance
Private collection Switzerland before at Dorotheum auction June 6th 1961 lot 75.
Packaging and free Shipping

With 25 years of experience in shipping Art worldwide, we provide safe packaging and shipping to our customers. Shipping and packaging are free of charge only if the list price shown on our website is accepted without discount or lower offers.

Shipping of etchings, lithographs and prints comes usually in tubes without the frame to be safe

For Shipping of paintings and sculptures we provide individually created wood boxes
The fine photography is packaged in safety boxes

All our packages we ship are insured (all risk)