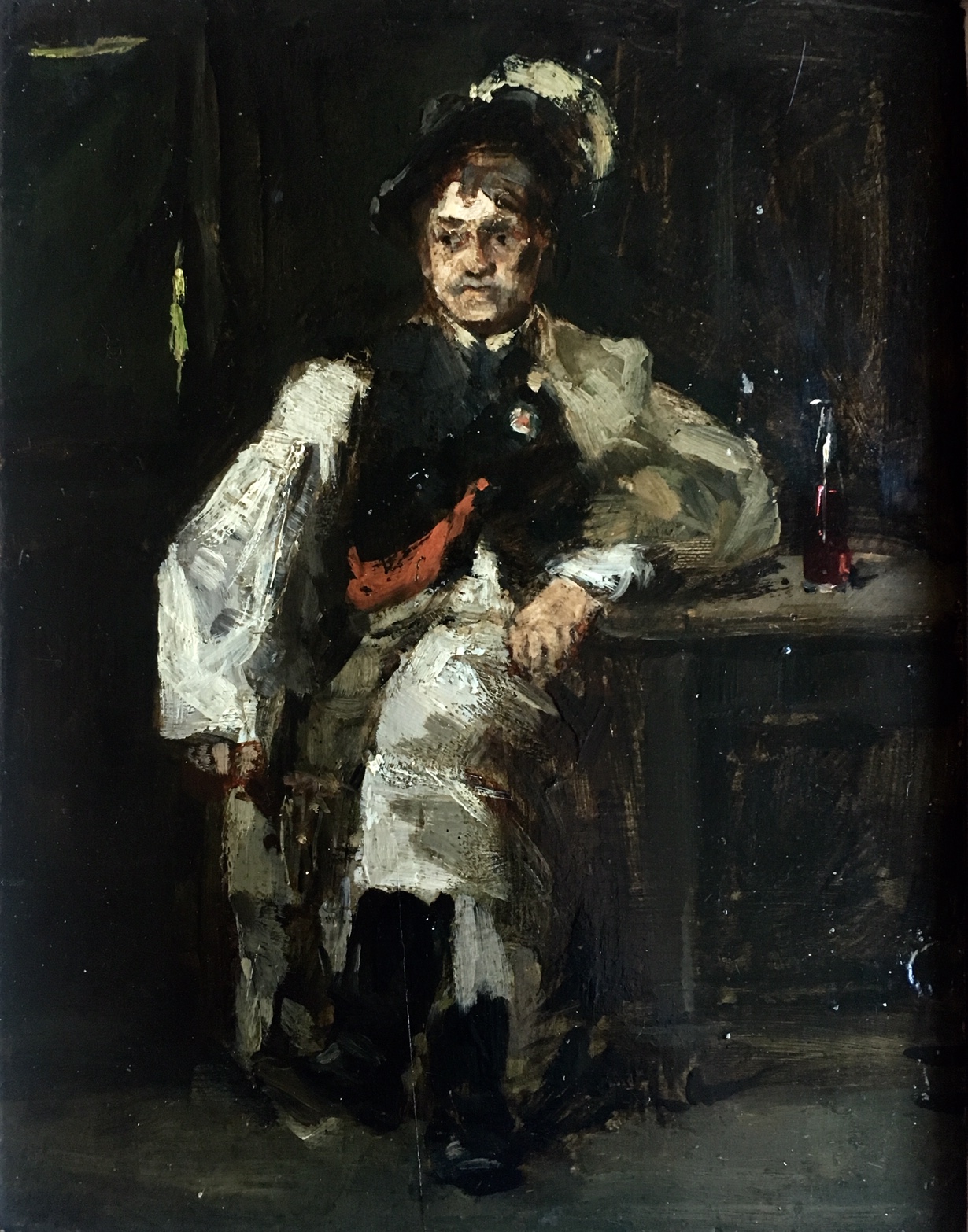 Private collection (Hungary)
Description
Mihály Munkácsy, who was a romantically realist painter, became famous throughout Europe as an internationally recognized master of 19th century Hungarian painting. He studied and painted with great care the most characteristic characters of his age. He was an excellent acquaintance of the communities of the town and the village, and his pictures of life painted with a sociographic sense are exemplary.
He painted his painting Recruitment (1878) during his time in Paris (1871-1879). His picture of life, painted in a realist style, was certainly inspired by the figures of soldiers serving in the Revolution of 1848/49 and the War of Independence. In the picture of the painter, in a dark room, we see soldiers enlisting in general conscription, having fun for the last time, but some figures look thoughtfully at what awaits him. In Munkácsy's oil painting, he faithfully returns the state of mind of the soldiers who went to war during the war of independence.
This preparatory work for "Recruiting" focuses on the figure of a young soldier sitting on the left side of the original painting. Crossing his legs, the man wearing the ornate cap, placing his right hand on the table, looks grimly in front of him, standing next to a bottle of wine. Munkácsy's oil painting on a wooden board is patchy, but beautifully painted, with good quality. The facial features of the figure can also be clearly seen due to its sketch-like painting, the master paid great attention to detail: a Hungarian cockade adorns the right chest of his figure. On the back of the picture, in the middle of a mahogany wooden board, we can read the name of Baron Eduard von Goebel, a date from 1876 and the name of the city of Dresden, referring to the former owner of the work.

Details
Artist
Munkácsy, Mihály (1844 - 1900)
Title
Study for the painting "Recruitment"
Technique
oil on mahagoni wood
Year of creation
between 1875-1880
Signed
Provenance
Private collection Switzerland
Packaging and free Shipping

With 25 years of experience in shipping Art worldwide, we provide safe packaging and shipping to our customers. Shipping and packaging are free of charge only if the list price shown on our website is accepted without discount or lower offers.

Shipping of etchings, lithographs and prints comes usually in tubes without the frame to be safe

For Shipping of paintings and sculptures we provide individually created wood boxes
The fine photography is packaged in safety boxes

All our packages we ship are insured (all risk)