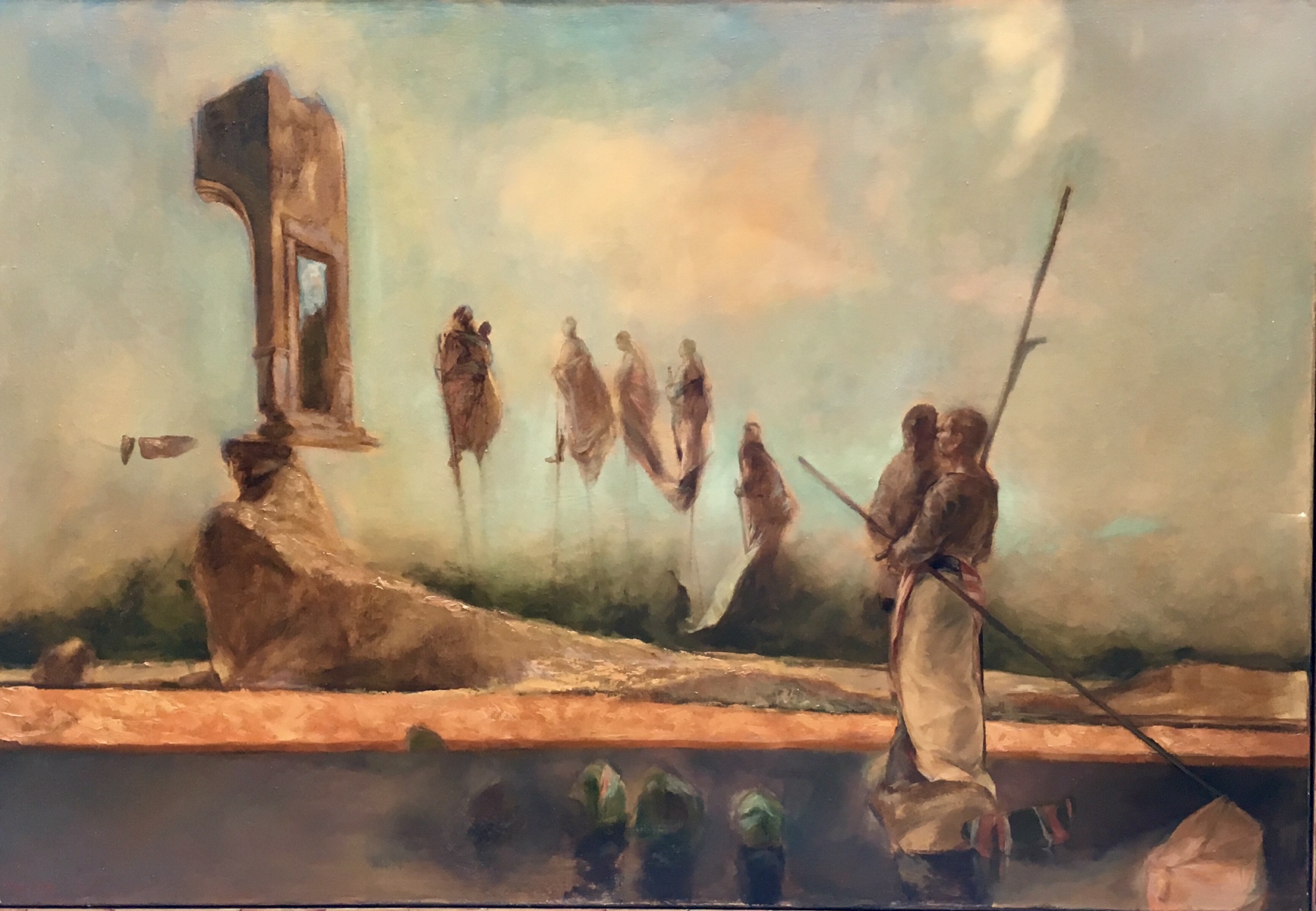 Private collection Hungary
Description
Mózes Incze began his artistic career as an abstract painter and then found his own formal language in figurative painting. As a creator with a traditional technique, he is mostly concerned with the human body, so in his works, in addition to landscape elements, we can observe the components of the human body: hands, faces, and rarely complete figures placed in unreal, visionary space. Such is his image The procession, on which mystical, shrouded figures walk in a beautiful line of geese.
At the center of the composition of the picture is a procession of men, a woman, and a child moving forward toward a rectangular gate on a cliff. Their march is watched from a distance by two ladik figures in the foreground of the image field. This dark water — perhaps the Stux River — separates you from the other side, which is not real land, as everything floats above it, including the procession. The highlight of the triple split image field is the gloomy, mysterious lights of the sky. We are not in a real space.
His painting gives an insight into the world of conjectures. The figure in the boat may be the underworld ferry, Kharon, who transported the dead to the afterlife on his ladik. The "mouth" of the gate of the semi-finished edifice seems to lead to nothingness, behind it the glow of a blue spot and the darkness of a brownish-black spot suggest that anything may be behind it. The souls of Incze's group on stilts are moving uncertainly towards this hidden world.
The predominant color of the image, made with traditional oil technique, is the brown, earthy shapes marching in the bluish airspace contrasting with it. The work of Mózes Incze testifies to a high degree of technical knowledge and compositional skills. In his choice of subject, he follows the spirit of his great predecessors, and his painting also bears traces of the Renaissance. Behind his strange, surreal world lies a deeply thinking creator.
Details
Artist
Incze, Mozes (1975 - )
Provenance
from the artist
Packaging and free Shipping

With 25 years of experience in shipping Art worldwide, we provide safe packaging and shipping to our customers. Shipping and packaging are free of charge only if the list price shown on our website is accepted without discount or lower offers.

Shipping of etchings, lithographs and prints comes usually in tubes without the frame to be safe

For Shipping of paintings and sculptures we provide individually created wood boxes
The fine photography is packaged in safety boxes

All our packages we ship are insured (all risk)