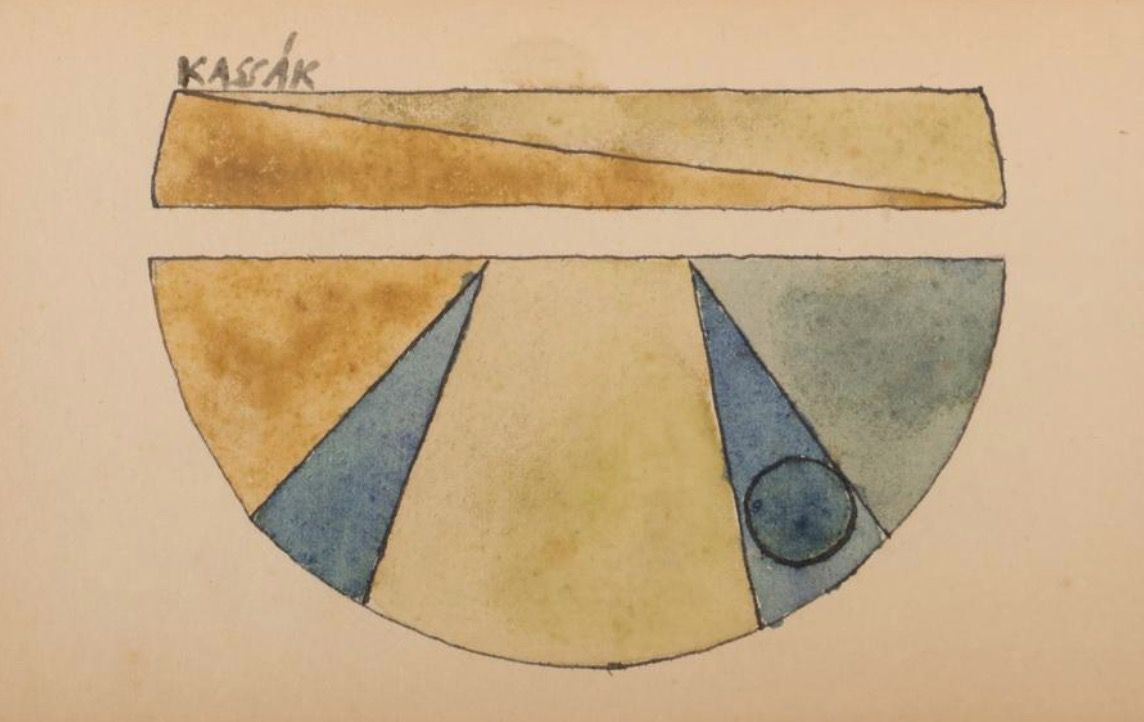 sold to a private collection (Hungary)
Description
We can see geometrical figures: a half-circle and its horizontal diameter is partitioned for three segments. The vectors are running out from here and their black lines divide the half-circle for triangles and trapezium.
By mixing the clean colors with grey the plain yellow and blue fields are alternating each other. There is a circle in one of the symmetrical placed darkest blue triangles which throws the balance off and pushes the composition to the left.
We see only one slice from the upper missing part of the circle which is divided into two triangles. The upper line of the parallel pushed part closes the composition what causes dynamic effects with the variation of colors. The spectator completes the circle and we don't feel lack of anything, the drawing is the harmonic whole.
Lajos Kassák also recognized worldwide as a fine artist. This constructive artwork is built on the relation of the geometrical forms and colors. In his "Abstract composition" artwork softly accents the structural components with pallid colors with thin black contour. Puritan and simplified aquarelle is a play with the geometric shapes and nuance of the opposition color pair.
He lets the spectator into this visual experiment as well.
Lajos Kassák counts as the pioneer of the Hungarian avant-garde. His constructive and abstract artworks reflect the search of the way of the artistic tendencies in the beginning of 20th century and also mirror the spirit of the experiment.
He is influenced by the Russian modern art, first Malevics's works. Kassák executed the reinterpretation of the function and essence of the art in his literary and fine artworks.
His creations show us the spirit of his era and we appreciate them just nowadays in the right place.


Details
Artist
Kassák Lajos (1887 - 1967)
Title
Abstract composition
Technique
watercolour, ink, paper
Year of creation
1950-ies
Provenance
from USA private collection
Packaging and free Shipping

With 25 years of experience in shipping Art worldwide, we provide safe packaging and shipping to our customers. Shipping and packaging are free of charge only if the list price shown on our website is accepted without discount or lower offers.

Shipping of etchings, lithographs and prints comes usually in tubes without the frame to be safe

For Shipping of paintings and sculptures we provide individually created wood boxes
The fine photography is packaged in safety boxes

All our packages we ship are insured (all risk)