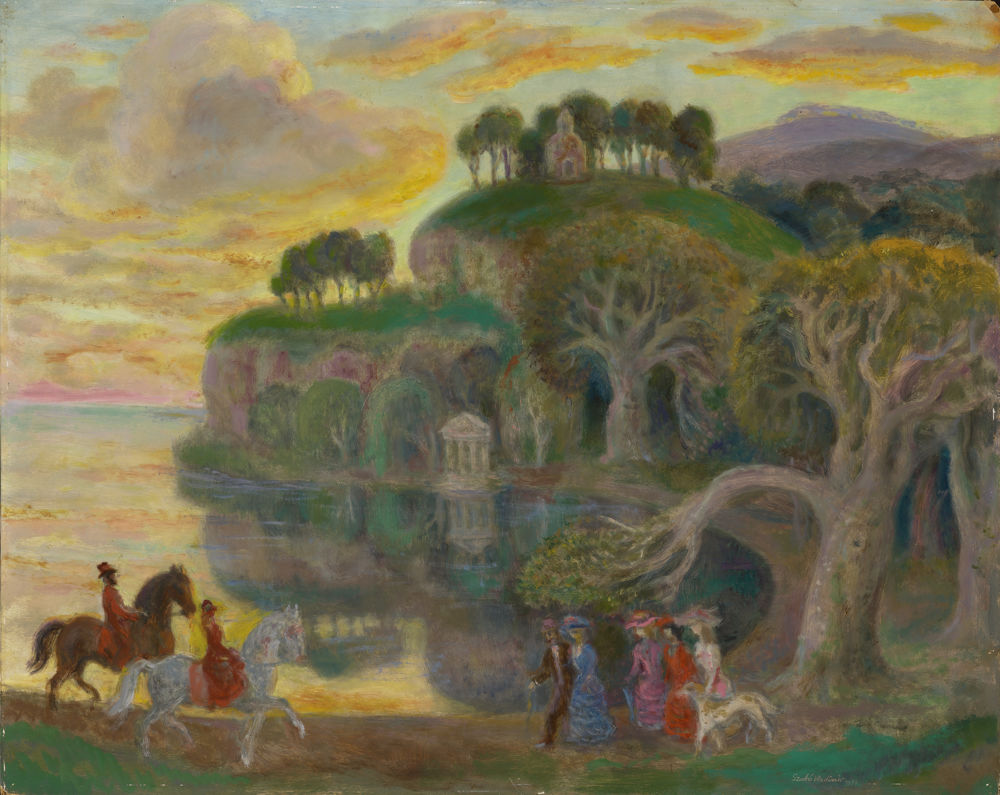 Private collection Hungary
Description
Vladimir Szabó is a artist whose oeuvre is a significant part of his graphics (pencil drawings and etchings), and a small proportion of his paintings. His painting is thematic in nature, unfolding regardless of avant-garde trends. The intellectual heirs of his art include Gulácsy and Csontváry, whose unique vision and pictorial world have left a deep imprint on the painting of Vladimir Szabó. He mixed his images, nourished by the color experiences of post-impressionism, with the naive, realist sometimes surrealistic features of the creator in an excellent way.
In his drawings and paintings alike, the same circles of motifs return in a kind of tasteful narrative mood. In addition to the animal (horses and dogs) and the human world (young girls, naked or well-dressed ladies), we see the untouched nature, the lakes, the hills dotted with trees and the monuments.
In his multi-faceted oil painting entitled Gentleman Walking on the River, a gentleman walks along the shores of a lake next to a dense forest in the company of well-dressed ladies. The smaller group is not alone, they are followed by a dog, in front of them people are dusting their horses. Behind the idyllic scene, almost only the good old ecosystem unfolds, with plants on a salty hillside and trees of gigantic size along the shores of the lake. Vladimir Szabó's painting, painted with multifaceted, narrative realism, is best characterized by his natural vision and objective depiction of people and landscapes.
The brownish-red color scheme of the oil-painted picture of life can best remind us of Gulácsy's color, while the composition can remind us of the influence of Csontváry.
Details
Artist
Szabó, Vladimir (1905 - 1991)
Signed
signed: Szabó Vladimir 1979
Condition
Packaging and free Shipping

With 25 years of experience in shipping Art worldwide, we provide safe packaging and shipping to our customers. Shipping and packaging are free of charge only if the list price shown on our website is accepted without discount or lower offers.

Shipping of etchings, lithographs and prints comes usually in tubes without the frame to be safe

For Shipping of paintings and sculptures we provide individually created wood boxes
The fine photography is packaged in safety boxes

All our packages we ship are insured (all risk)