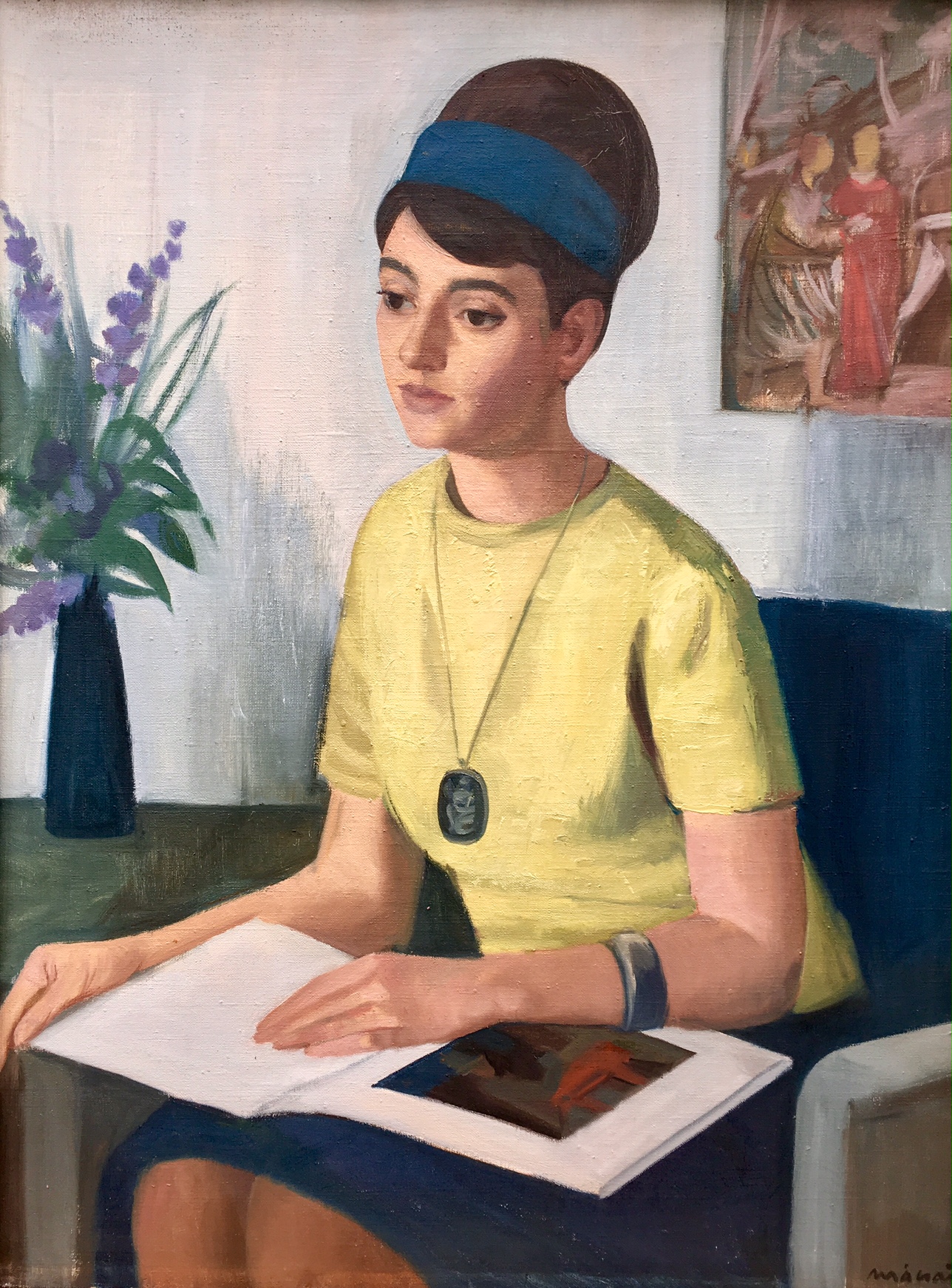 sold to a private collection (Hungary)
Description
István Mácsai's picture created at the beginning of 1970's as the pair of "Girl in red dress" artwork. One of the main object of his art of painting is the portrait "Reading Lady" is going through his painting's history. In this case the calmness and standstill of the lady who is holding a book in her hand becomes authentic.
The characteristic of Mácsai's pictures is the movelessness which is accompanied by simple and understandable realism. He would like to perpetuate what he sees. During his American journey he determines his tendency as "American naturalism" in which he recognizes himself. The "Girl in yellow dress" shows this impression.
The girl in the armchair lightly leans forward and she is staring. Her shape is neat, face expression shows evenness. The objects around her are secondary elements which make for the composition's order. The contrast of dark and light spots and obscure colours is dominant. He prefers to fill the area with less shadows and planes. That is why the picture is so modern and reflects the scene of the 60's: unkempt hair, ribbon, vase on the floor and the girl's clothing is also typical according that era's fashion. There is nothing artistic, only the reality. The artist said in the middle of 70's:
"I felt like I should go towards to human being, expression and humanity. It goes with the danger that must back away from the artistic, if is a danger. Except I can hold the artistic in a higher level."
Reading Lady's shape is drawn by Mácsai with poise of mind and shapeliness which mentions the masters of Quattrocento. He illustrates the artistic reality with his individual expression method.
Details
Artist
Mácsai István (1922 - 2005)
Title
Girl in yellow dress
Packaging and free Shipping

With 25 years of experience in shipping Art worldwide, we provide safe packaging and shipping to our customers. Shipping and packaging are free of charge only if the list price shown on our website is accepted without discount or lower offers.

Shipping of etchings, lithographs and prints comes usually in tubes without the frame to be safe

For Shipping of paintings and sculptures we provide individually created wood boxes
The fine photography is packaged in safety boxes

All our packages we ship are insured (all risk)