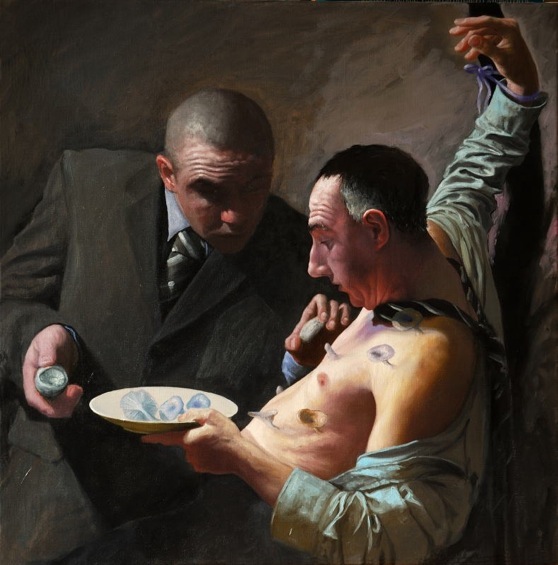 Private collection Hungary
Description
Gábor Szenteleki likes to pay attention to even the smallest details in his paintings. The characters in his photorealistic paintings are overheated with emotion, saturated with tension, as are the figures in Help. The two figures in his creation look at mushrooms placed on a plate, one of whom places these plants on his companion, who is likely to protest against them with violent hand gestures. The characters in Gábor Szentteleki's picture suggest surprise and amazement, as the scene is not ordinary at all, it is rather grotesque. The creator bravely draws our attention to the depth to which human feelings influence expressiveness.
Details
Artist
Szenteleki, Gábor (1978 - )
Signed
on the back : Szenteleki 2010
Packaging and free Shipping

With 25 years of experience in shipping Art worldwide, we provide safe packaging and shipping to our customers. Shipping and packaging are free of charge only if the list price shown on our website is accepted without discount or lower offers.

Shipping of etchings, lithographs and prints comes usually in tubes without the frame to be safe

For Shipping of paintings and sculptures we provide individually created wood boxes
The fine photography is packaged in safety boxes

All our packages we ship are insured (all risk)