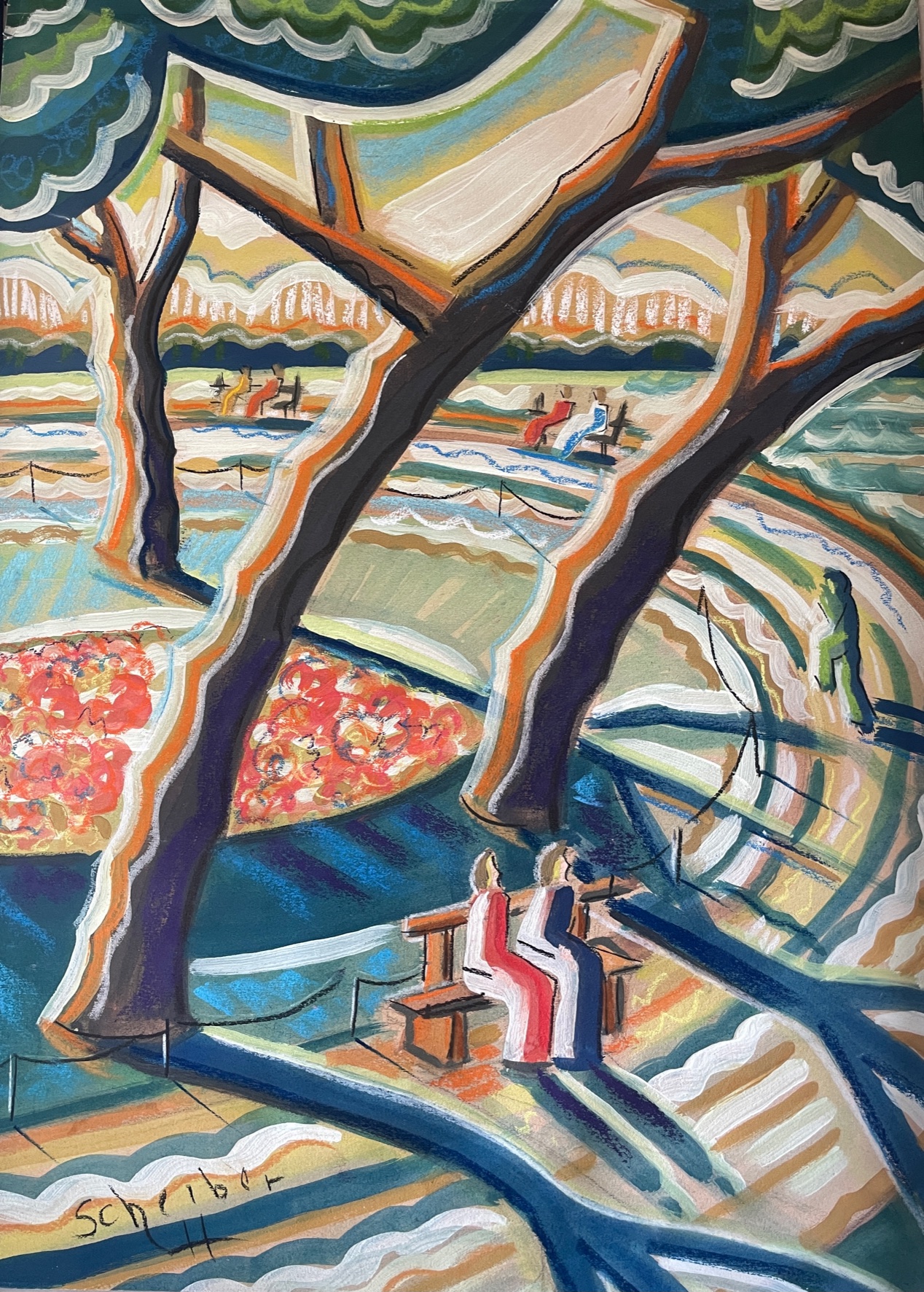 Private collection Hungary
Description
Hugó Scheiber was a special representative of the Hungarian avant-garde of the 20th century. Blessed with excellent drawing skills, the artist inherited his talent from his father, who worked as a set painter for the Prater in Vienna. Although Scheiber enrolled at the College of Applied Arts, he did not finish his studies. He was an instinctive talent who became a self-taught painter.
At the start of his career, he painted impressionistic, plein-air pictures, later German expressionism influenced his art. He made both landscape and still life pictures, as well as portraits.
The peaks of his life's work were his portraits, but his portraits are also significant. They were especially made in the 1920s and 1930s, when the art deco style captivated him as well.
According to his monographer, Péter Molnos, Hugó Scheiber was an iconic figure of Budapest in the 1920s and 1930s. The location of his work "In the Park" could be the "loud" park of the capital city with the chirping of birds and the rustling of leaves, we don't know for sure. In this case, the emphasis is not on the place, but on the feeling of life of the time. Scheiber captured the atmosphere of the modern metropolis and its living spaces in a period documentary style. In his gouache entitled In the Park, people are sitting on the benches, where they can chat and look at each other in the shade of the sprawling trees. Their figures are only indicative, part of the composition outlined by the park's paths, tree trunks, and flowers.
The constructive image of colorful stripes and circles exudes the atmosphere of the peaceful period between the two wars.
(Fábian Takats)
Details
Artist
Scheiber, Hugo (1877 - 1950)
Year of creation
after 1930
Provenance
1.Private collection USA 2.
Packaging and free Shipping

With 25 years of experience in shipping Art worldwide, we provide safe packaging and shipping to our customers. Shipping and packaging are free of charge only if the list price shown on our website is accepted without discount or lower offers.

Shipping of etchings, lithographs and prints comes usually in tubes without the frame to be safe

For Shipping of paintings and sculptures we provide individually created wood boxes
The fine photography is packaged in safety boxes

All our packages we ship are insured (all risk)