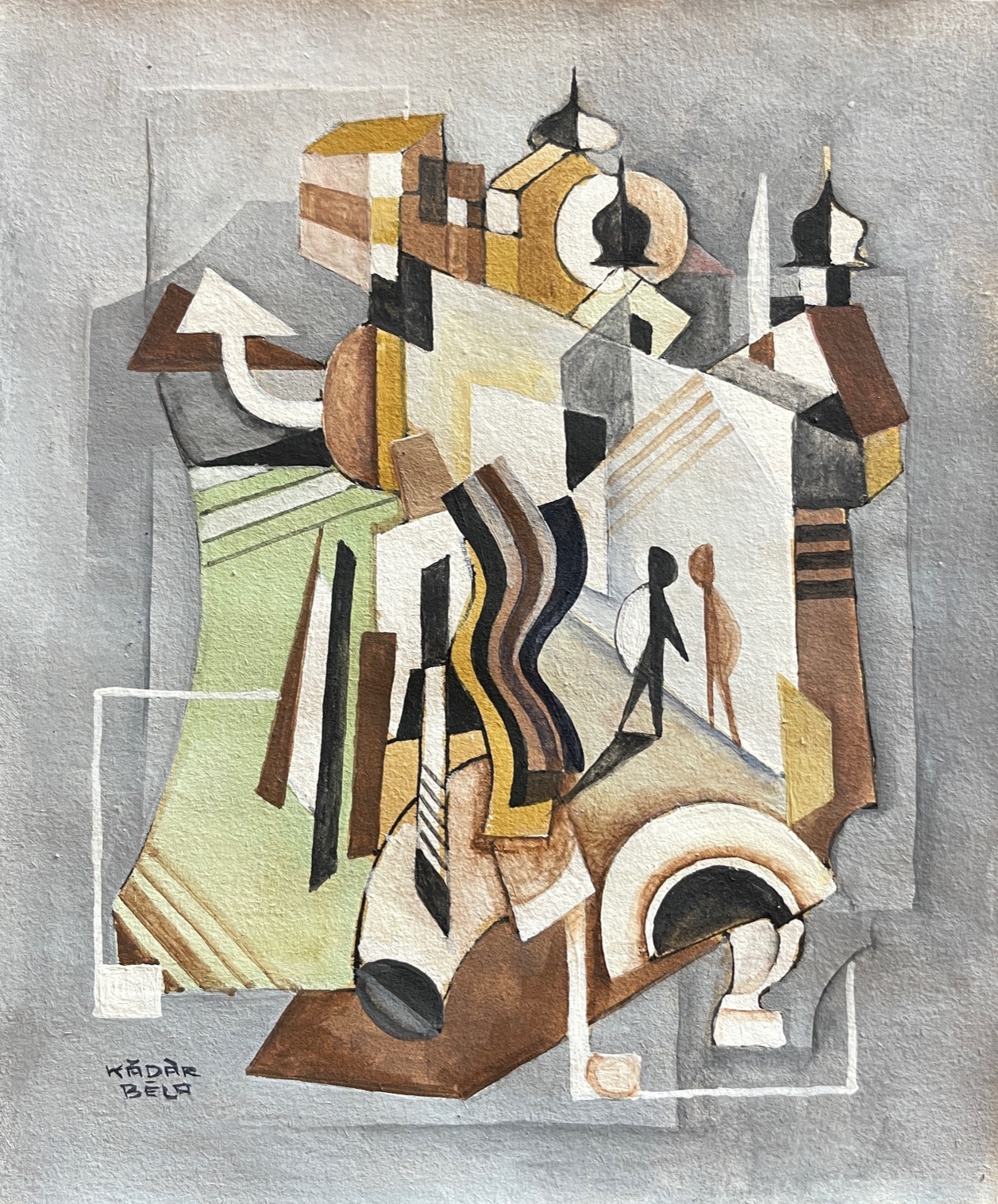 Private collection Hungary
Description
Béla Kádár was twenty years old when he traveled across Europe on foot. His visits outside Hungary matured the idea of becoming a painter. In 1899, he enrolled at the School of Industrial Design in Budapest, where he studied for three years at the Model Drawing Academy under the guidance of the painter Ede Balló.
At the beginning of his career, he was still looking for his own way. His work was influenced by the interior paintings of Béla Iványi-Grünwald and the Neos, József Rippl-Rónai, their compositional solutions, and color schemes.
His art changed in the 1910s, when he came into contact with the lines of activism. At this time, he was already creating his works in an expressionist style. He achieved considerable success with his gouache pictures from the 1920s and 1930s.
The "Cityscape with two figures" also belongs to this period, but it is a constructivist work. Two marionette-like figures "smooth" into the image of the title city. Into a location constructed of curved lines, rigid walls, and towers staring up at the sky, which became an important theme in the life of Kádár, who became an avant-garde artist. His choice did not fall on the city by chance. From a thematic point of view, the city marked the rapid renewal of modern art after World War I.
In Kádár's picture on paper, using gouache technique, he built the geometric forms and planes into the composition creating a spatial effect, which is held together by the rhythmic alternation of restrained colors.
(Fábian Takáts)
Details
Artist
Kádár, Béla (1877 - 1956)
Title
Landscape with two figures
Year of creation
Provenance
1.Private Collection Austria 2.Auktion Sale (SCHOPPMANN Düsseldorf, 1993, 607 és 608.) 3.Wolfgang Wangler Collection
Packaging and free Shipping

With 25 years of experience in shipping Art worldwide, we provide safe packaging and shipping to our customers. Shipping and packaging are free of charge only if the list price shown on our website is accepted without discount or lower offers.

Shipping of etchings, lithographs and prints comes usually in tubes without the frame to be safe

For Shipping of paintings and sculptures we provide individually created wood boxes
The fine photography is packaged in safety boxes

All our packages we ship are insured (all risk)