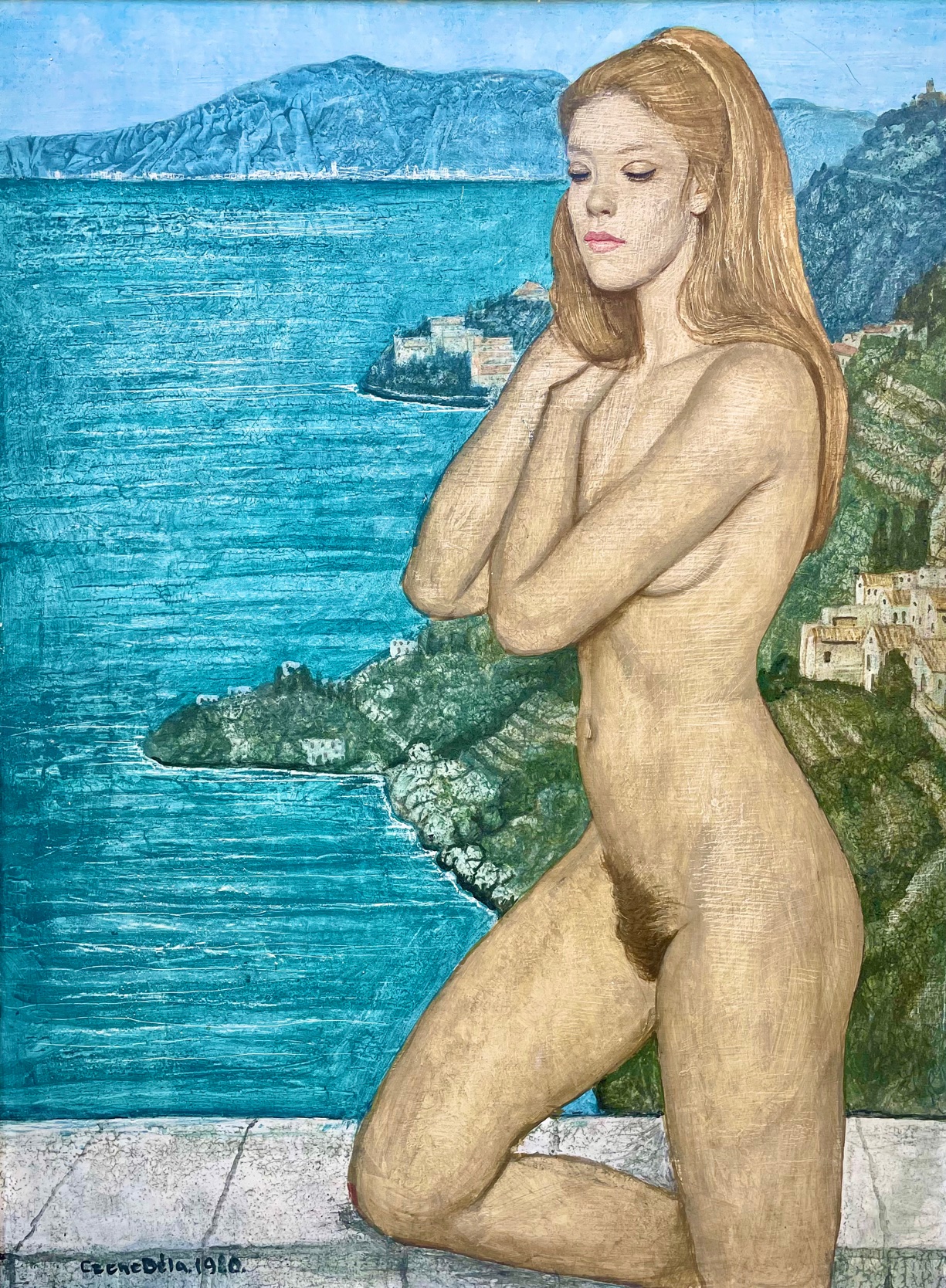 Private collection Hungary
Description
Béla Czene entered the history of art as a realist and figural painter, who immortalized his models with dazzling sophistication. Between 1930 and 1933, he studied at the College of Fine Arts in his creative style to discover the direction of the Roman school early on. The development of the artist's expression was greatly aided by the fact that after winning a scholarship from the Collegium Hungaricum in Rome, on the proposal of art historian Tibor Gerevich, he was able to travel to Rome. At this time, in his picturesque style, he became increasingly attached to the Renaissance classical tradition, the art of Leonardo da Vinci and Domenico Ghirlandaio, and the Greco-Roman traditions. After World War II, there was a "turnaround" in his work, his attachment to the Roman school loosened, and he drew the themes of his paintings painted with special techniques from ordinary life.
But he has also painted a number of models, one of his oil-painted paintings is "The Nude of the Amalfi Coast." The late nude (made in 1980) of Czene's creative period shows well the orientation of the Roman school characteristic of the artist, as he highlighted the essential elements of reality in his painting and then painted his model with a concise plastic endeavor and healthy formality.
Details
Artist
Czene, Béla (1911 - 1999)
Title
Model on the Amalfi coast
Condition
Packaging and free Shipping

With 25 years of experience in shipping Art worldwide, we provide safe packaging and shipping to our customers. Shipping and packaging are free of charge only if the list price shown on our website is accepted without discount or lower offers.

Shipping of etchings, lithographs and prints comes usually in tubes without the frame to be safe

For Shipping of paintings and sculptures we provide individually created wood boxes
The fine photography is packaged in safety boxes

All our packages we ship are insured (all risk)