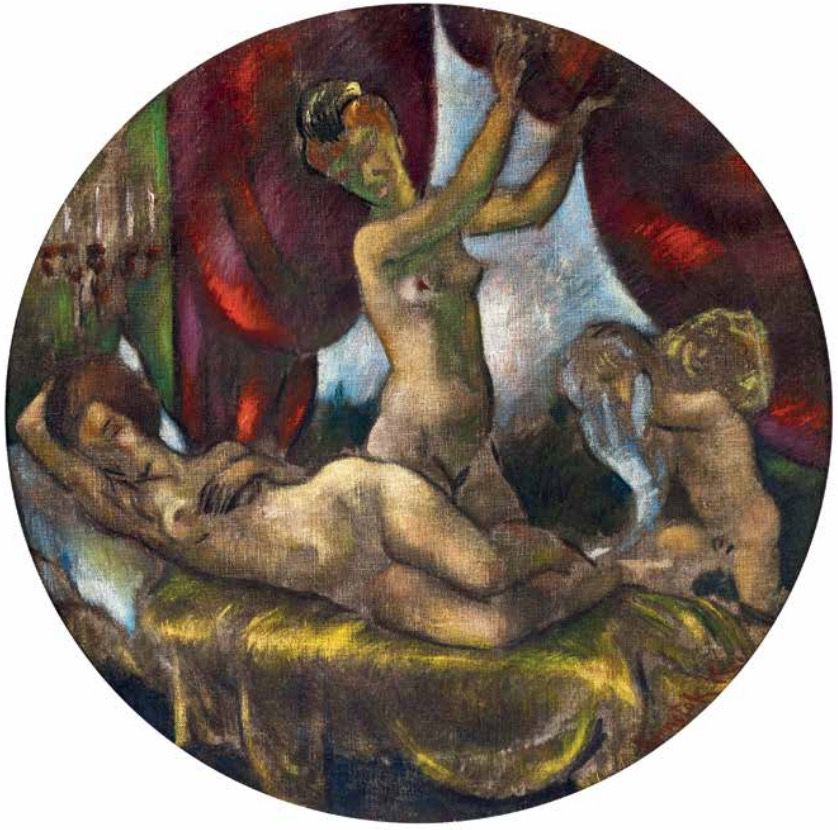 Private collection (Hungary)
Description
We have seen in enterior a group of relaxing nudes: a young lady lying on a golden blanket covered bed. Her right hand is on the pillow, under her head and she bents her other hand on her chest. She is sleeping on her side. The other female figure behind her back, with high raised hand, pulls away one of the wing of the red curtain on the back. The brightest spot is the white light of the window, which gives the interior of the room some spatiality. The circular painting focuses on the three figures, edited them into a triangular composition. The red and gold colours drapes as decorative elements fill the circular image field. The third figure of the artwork is a golden-blonde, curly-haired amorett-like child. On the expressionist painting of the famous modern artist Karoly Kernstok, the bodies of the nudes are athletic. The strong contourlines and hard forms of his figurative composition, show a poster-like depiction. Therefore, the style of fauvism can be explored on his work titled "Nudes". The theme of his painting is lyrics intimate, but powerfully expressive also. The artist's oil painted masterpiece with the rich lynious, is a late piece of his creative period. Károly Kernstok is one of the most talented representative of the Hungarian avant-garde. He was a member of the Group of Eight and his works effect of the modern artistic endeavours from the beginning of the 20th century. The provenence of the artwork is known, the painting what is dated around 1930, was the part of the collection of György Koller. Many of Károly Kernstok's artworks are exhibited in the Hungarian National Gallery.
Details
Artist
Kernstok, Károly (1873 - 1940)
Provenance
From György Koller's Collection
Packaging and free Shipping

With 25 years of experience in shipping Art worldwide, we provide safe packaging and shipping to our customers. Shipping and packaging are free of charge only if the list price shown on our website is accepted without discount or lower offers.

Shipping of etchings, lithographs and prints comes usually in tubes without the frame to be safe

For Shipping of paintings and sculptures we provide individually created wood boxes
The fine photography is packaged in safety boxes

All our packages we ship are insured (all risk)