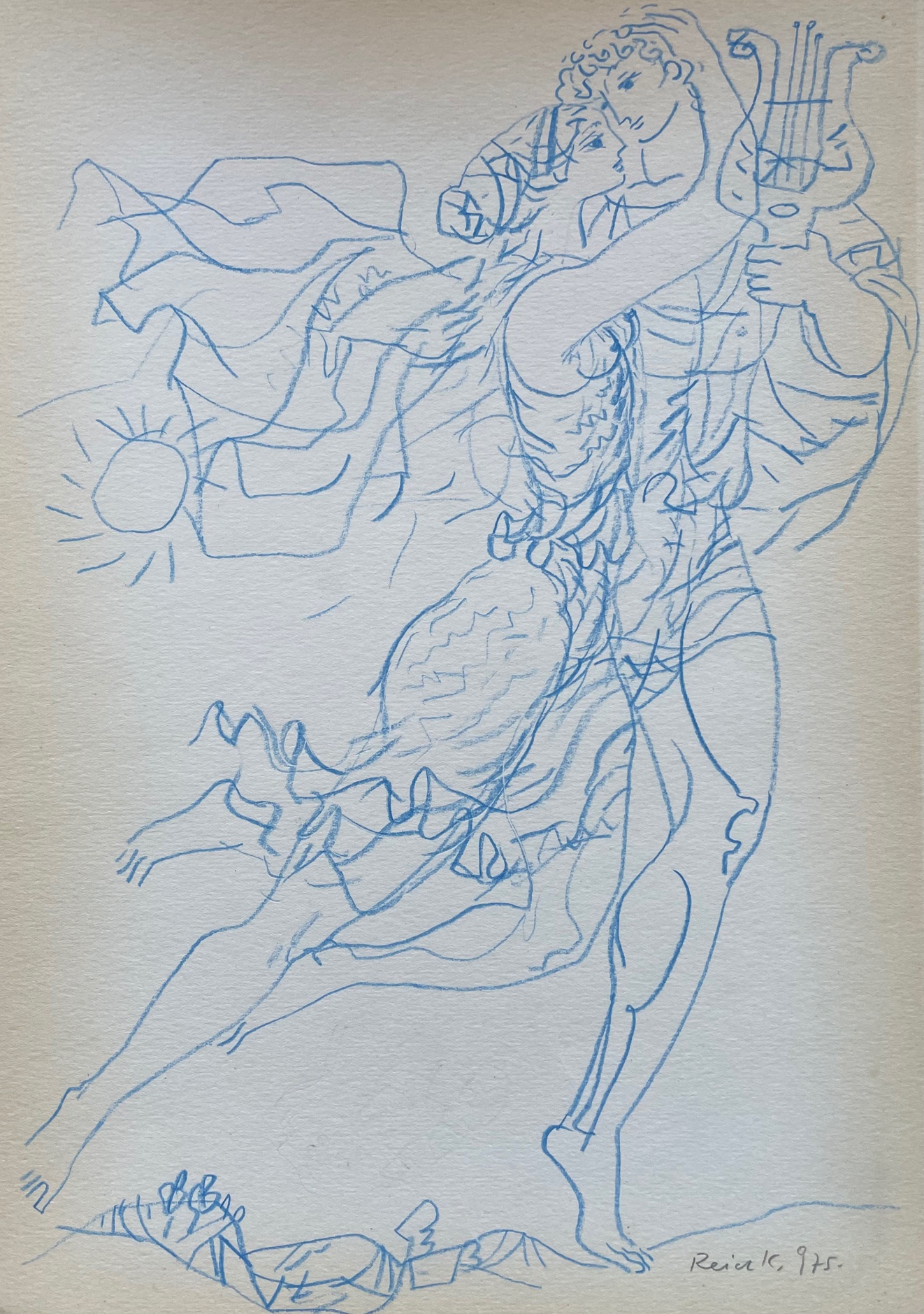 Private collection Hungary
Description
Károly Reich, a renowned master of Hungarian graphics, gained great popularity during his creative career. As a fan of Greek culture, his graphics are influenced by his love for people and the resulting humanism, as evidenced by his work entitled "Orpheus and Eurydice".
The main source of inspiration for the idyllic drawing of Charles Reich, as the title shows, were two figures in Greek mythology, Orpheus and Eurydice. According to the story, the legendary singer of Thracian origin, Orpheus, was able to bring his beloved Eurydice back from the underworld when he lost him. With his music, he softened the hearts of Hades, the lord of the underworld, and Persephone, the goddess of fertility, so they let them back into the earthly world. In the graphics of Károly Reich we see the two lovers together again, in his arms, he can dazzle his Eurydice again with his Orpheus.
Károly Reich's work used few tools to compose, only pencils and paper. His composition is balanced, the outlines of the figures are drawn with a single line, with a sure hand, with the line drawing, which is a special, unmistakable style feature of Károly Reich.
He formulates his creed about the drawing as follows: "A drawing is not created when something is already visible on the paper. By reading, understanding and intuition - in big words: by inner vision ".
Details
Artist
Reich, Károly (1922 - 1988)
Title
Orpheus and Euridike
Technique
crayon on paper
Condition
Packaging and free Shipping

With 25 years of experience in shipping Art worldwide, we provide safe packaging and shipping to our customers. Shipping and packaging are free of charge only if the list price shown on our website is accepted without discount or lower offers.

Shipping of etchings, lithographs and prints comes usually in tubes without the frame to be safe

For Shipping of paintings and sculptures we provide individually created wood boxes
The fine photography is packaged in safety boxes

All our packages we ship are insured (all risk)