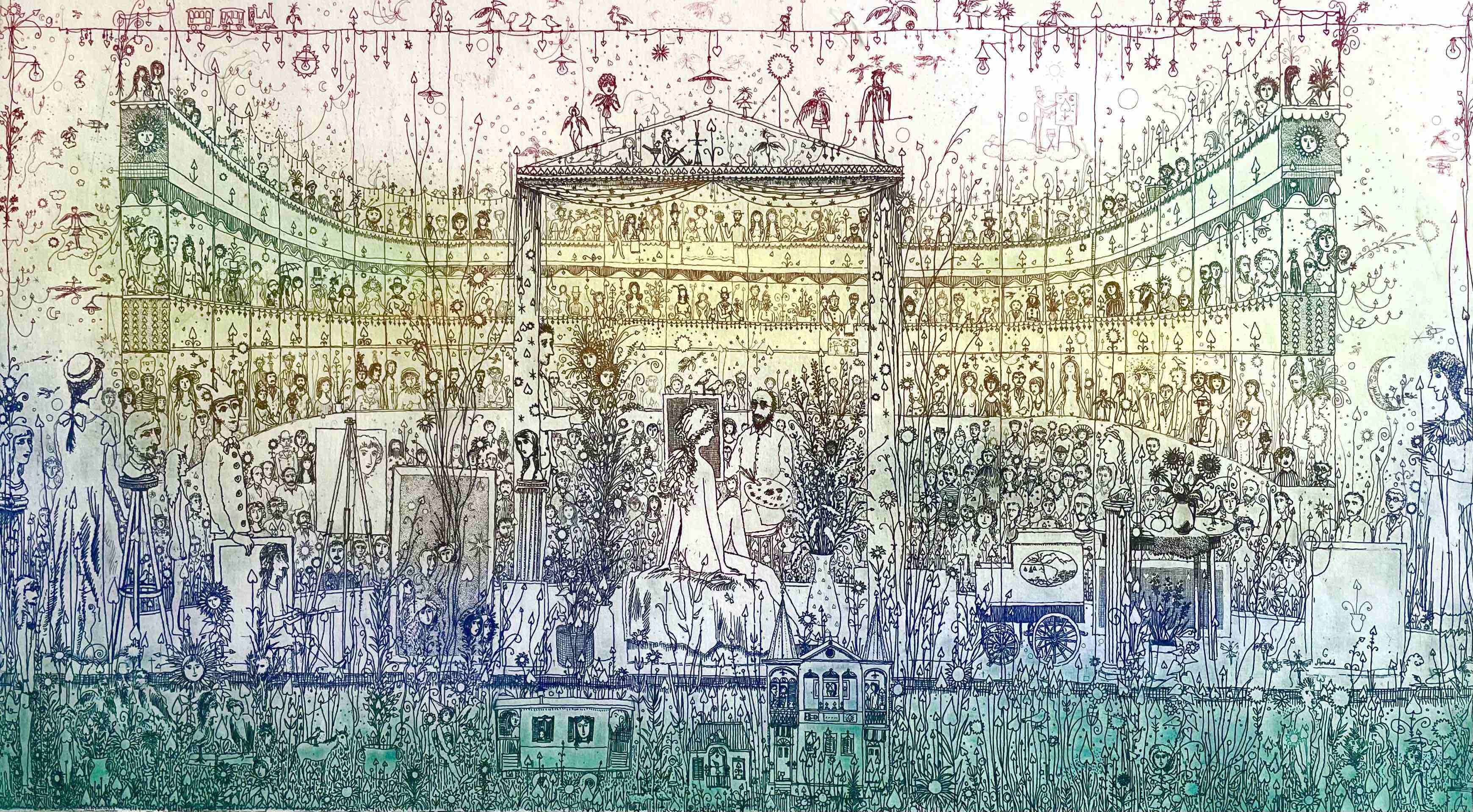 Private collection Hungary
Description
With his rich, detailed etchings, Gross Arnold soon became popular, and during his college years he regularly visited the Museum of Fine Arts, studying in depth the engravings of the old masters, especially Rembrandt and Dürer. Later, there was no question for him to start dealing with this genre, he developed his own style in the 1950s, which cannot be confused with anyone else, his art is based on the complete renewal of etching.
His earlier monotonous, black-and-white works have been replaced by images of the rainbow's sweeping, sweeping momentum, yet overflowing serenity and harmony, as evidenced by one of my main works, "Praise for Art".
As if we were walking in a fantasy-born realm, the pictorial world of Gross Arnold's detail-rich graphics unfolds before us. At the center of the composition we see a painter and a model under a tent roof, behind them a picture of a semicircular theater unfolding, the lodge of which is crowded with people, curiously watching the performance in front of them. The lower part of the picture is not left free either, the garden in front of the building is dotted with plants, sunflowers, antique female sculptural heads, cheerful figures of small cottages, we feel almost in nature, as small birds chirp in the background. In the mirror provided by nature, our faces, beings, people, art and everyday life, the past of memories, the present of our consciousness, the future of our imagination: dream and reality appear on the etchings of Gross Arnold at the same time.
He leaves almost a millimeter free in the master's graphics, but this congestion is not disturbing at all, as following the composition of children's drawings the elements "merge" into an organic unity.
Details
Artist
Gross, Arnold (1929 - 2015)
Title
The praise of the arts
Technique
coloured etching on paper
Condition
Packaging and free Shipping

With 25 years of experience in shipping Art worldwide, we provide safe packaging and shipping to our customers. Shipping and packaging are free of charge only if the list price shown on our website is accepted without discount or lower offers.

Shipping of etchings, lithographs and prints comes usually in tubes without the frame to be safe

For Shipping of paintings and sculptures we provide individually created wood boxes
The fine photography is packaged in safety boxes

All our packages we ship are insured (all risk)